About Coves Font
Coves is a geometric sans-serif font designed by Jack Harvatt. This free font features regular curves and is ideal for titles or logo design; it also allows you to make your text readable and visible even in the smallest size. Coves is available in two font styles: Bold or Light. Every option includes the entire character range, as well as accents and non-English letters. Coves font features a minimalist and clean design with small details that enhance its beauty. All rounded letters have been designed on the basis of perfect circles. Non-curved letters are simple and clean. The font has an extra level of finesse thanks to the angled crossline for the letter "e". Coves is simple, making it ideal for logos which are more interested in drawing attention to something else. Coves font download free now with a single click and enjoy it in your design.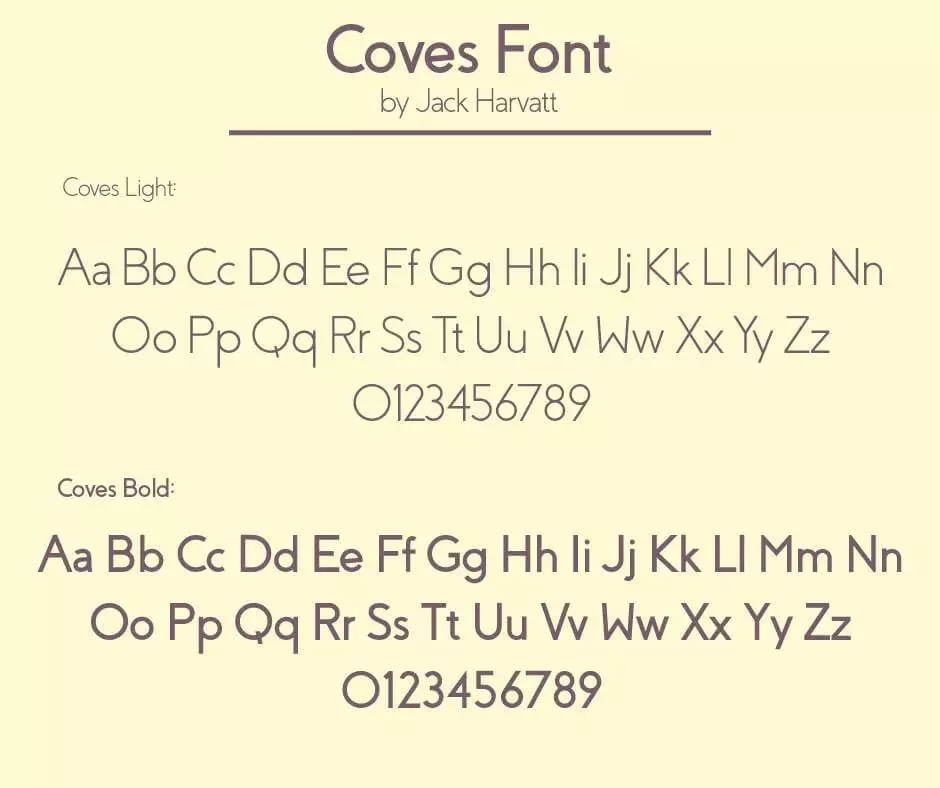 This typeface is still popular among designers and many of them continue to surprise their clients and customers with their designs. You could be one of them. Coves is a free font. But the free version is available only for personal purposes.
Usage Of Coves Font
This font is a stunning design tool that will appeal to those who want a perfect font with excellent legibility. Coves font works well in places that require elegant, premium, and luxury design such as hotels, restaurants, cafes and salons. It's an excellent font for headings or logo design. Coves font can be used to write small text. It's an all-purpose font.
Fonts Similar to Coves
Font Combination
Virgo 01 + Coves
Good font pairings are vital for a great design. However, picking the right fonts may appear like a daunting black art for the majority of people. Today we will ask you to use one such font with the Coves font which is Virgo 01. I'm hoping this combination of fonts can add another dimension to your style. To make it easier for you I am trying to give you a visual with the help of an image above.
Use Virgo 01 font for Headings. It is an ideal display font that is perfect for heading & big text. For body text, Coves is the best choice. It makes your text easily read and noticeable even at the smallest size.
Font License
You can download the two font weights of this font including Coves Light and Coves Bold. These two fonts are free only for personal purposes. For commercial purposes, buy the font from the link below: ↓
Coves Font Free Download
FAQ
What Type Of Font Is Coves?
Ans: Coves is a geometric sans-serif font designed by Jack Harvatt.
Is Coves Font Free?
Ans: It is free for personal use only, not for commercial use.
How Do I Download Coves?
Ans: By clicking our download button, you can easily download Coves.
Can We Use Coves Font On Online Platforms?
Ans: You can use every font downloaded from our website on the online platform, however, there is a request to read the license of the font before using.