About Boiling Serif Font
Alit Design presents the Boiling Fonts family. Boiling is elegant, and you can use this font to compliment your current design. This bold serif font family has been carefully created to be a firm favorite. Its casual appeal makes it easy to read, readable, and incredibly versatile. You get thicker series and many other font styles in addition to the thin ones. Modern minimalist design concepts make it easy to combine all letter characters. Many options for discretionary ligatures are unique and easy to read, including the alternative swash till (ss05).
Boiling includes 11 families, ranging from Thin to Black. These can all be used to create unique design concepts or make your serif font collection. Future developments will include swash, new styles of Boiling, and ligature. The boiling font also contains Unicode and PUA, and you can use it for design or non-design purposes.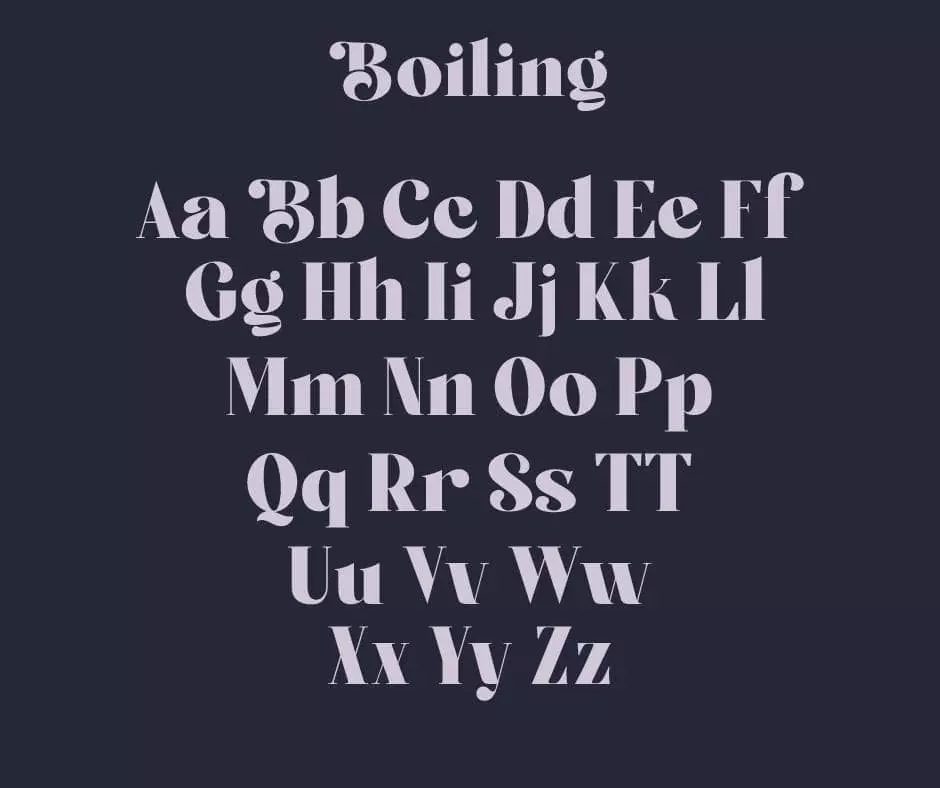 OpenType Features:
Kerning
Alternates
Ligatures
Additional Numbers
Stylistic Sets
Font Information
Usage Of Boiling Font
Boiling font can be used with any type of design work. This font can also be used for web design. Boiling has been used on many websites. It is great for headings, titles, and sometimes subtitles.
Boiling font can be used to enhance your YouTube thumbnail. It can also be used for leaflets, presentations, websites, leaflets, newspapers, online/offline, blog posts, website covers, logos & branding, book cover designs, and many other purposes. Boiling font is very striking and will make your work stand out from others.
Fonts Similar to Boiling
Font Combination
Boiling + Open Sans
Boiling's modern serif style and vintage curve style make it perfect for creating eye-catching headings. This font seems to fit the heading better than the body text. For body text, we will recommend you to use open sans regular. Open Sans is a humanist sans-serif typeface designed by Steve Matteson, commissioned by Google, and released in 2011.
Font License:
The font we are providing is a demo version released by the designer only for personal purposes. You can not access any opentype feature in this version. To download the full commercial version of Boiling Font, Click here.
Boiling Font Free Download
FAQ
Is Boiling A Font Free?
Ans: It is free for personal use only, not for commercial use.
What Type Of Font Is Boiling?
Ans: Boiling is a modern serif font family designed by Alit Suarnegara.
Can We Use The Boiling Font On Online Platforms?
Ans: You can use every font downloaded from our website on the online platform, however, there is a request to read the license of the font before using.
Is Boiling Font Safe To Download And Use On My PC And MAC?
Ans: Yes, The font we are providing is 100% safe to download for both PC and MAC.