About Odachi Font
Designed by Mehmet Reha Tuğcu, Odachi is a gorgeous Japanese-inspired font. We think that this font is one of the best brush script fonts with a natural and archaic look. There are a lot of stunning fonts designed by Tugcu, but this one has to be one of our top choices among his brush fonts, and not just because he has made it available to others for use for any type of project, including commercial ventures. The free version is available with all lower and uppercase letters and some special characters as well. You can download odachi font free right from here.
The characteristics of the Odachi font make it very eye-catching. With its samurai-inspired appearance and the Odachi font that looks like a horror font, it has a distinctly Japanese aesthetic. If you've been looking for the perfect brush font to use in your next creative project, then you're in the right spot.
For better understanding how the Odachi font will appear on your creative projects before downloading it, you can preview the characters form the image below.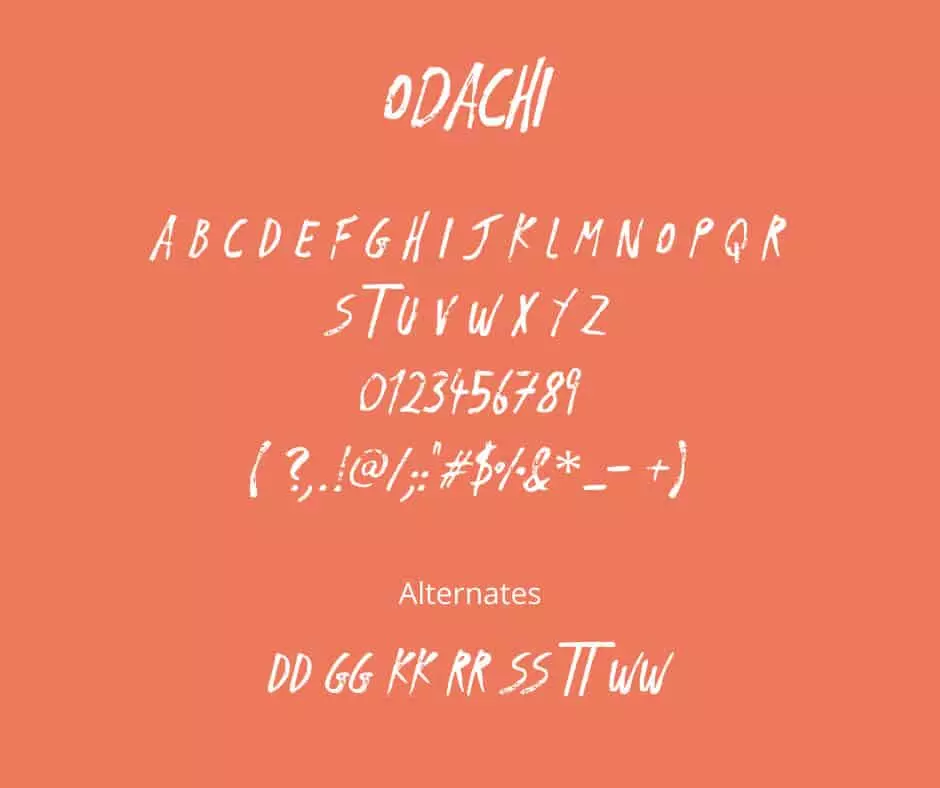 Usage of Odachi Font
Odachi font is among the fonts suitable to be used in conjunction with printed and digitally printed products. This font is ideal for posters as well as social media posts branding personal or commercial projects etc. You can also use Odachi font for website design, mobile applications, and games. If you want, you can use this font in the logo and in the quotes too.
Fonts Similar to Odachi
No Debate.
Pisan Normal font.
Flesh-Eating Comic.
QuickPick Font.
FinalDays Font.
Font Combination
Odachi + American Typewriter
Because the Odachi brush font is rather simple, it's fine to use it in conjunction with a font that contains a bit of personality. You can try making use of American Typewriter, in order to create that sociable and inviting look even more. American Typewriter is a slab serif typeface designed around in 1974 by Joel Kaden and Tony Stan.
Font License
The Odachi font is available for free and is free to download for commercial or personal projects.
Odachi Font Free Download
FAQ
What Type Of Font Is Odachi?
Ans: Odachi Font is a gorgeous Japanese-inspired brush font.
Is Odachi A Free Font?
Ans: Odachi font is totally a free font. You can use this font for personal & commercial purposes.
Is Odachi Font Safe To Download And Use On My PC And MAC?
Ans: Yes, The font we are providing is 100% safe to download for both PC and MAC.
Can We Use Odachi Font On Online Platforms?
Ans: You can use every font downloaded from our website on the online platform, however, there is a request to read the license of the font before using it.