About Cloister Black Font
The Blackletter font family is a collection of fonts influenced by the dark, saturated calligraphic letters of the Middle Ages. Today we are going to introduce a nice free blackletter font. Presenting Cloister Black Font. Free Download Cloister Black font from the download section below.
Cloister Black Typeface is a high-quality Middle Ages Blackletter font developed by Dieter Steffmann that is free to download for personal use only. All capital and lowercase letters, as well as a few special characters, are available in the free version. There are many versions of this font and all are premiums. Only dieter steffmann's designed font is free.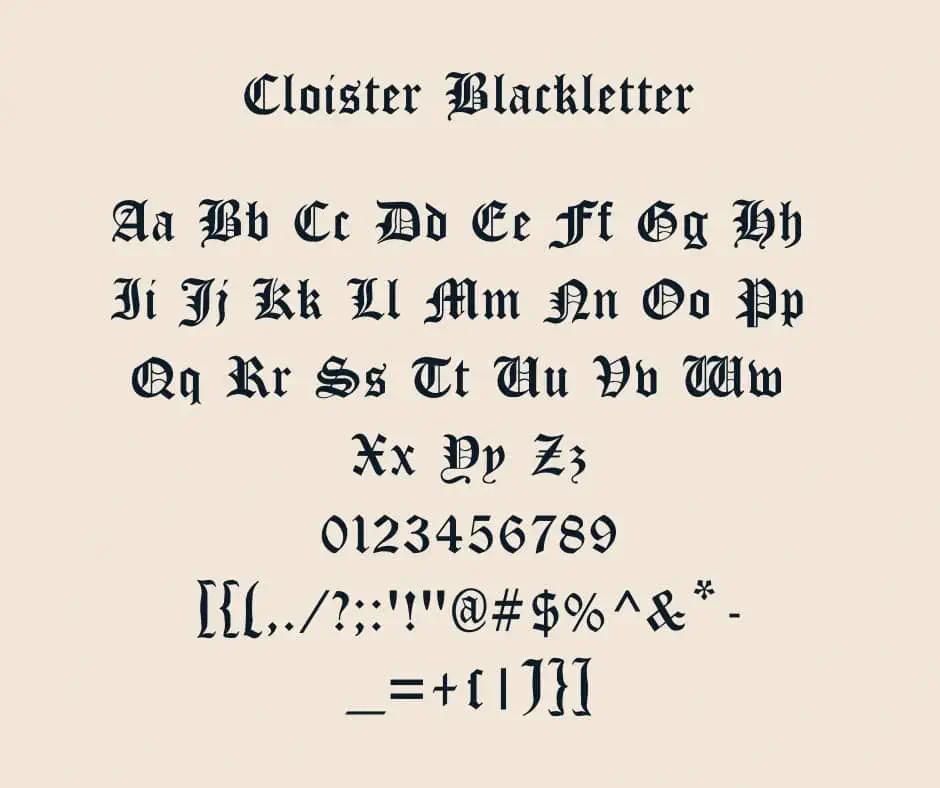 Cloister Black's uppercase and lowercase letters are characterized by powerful strokes and complex serif swirls.
Features Included: Uppercase, Lowercase, Numeral, Punctuation, Multilingual.
Usage of Cloister Black Font
Blackletter was featured alongside roman and italic typefaces in book printing for hundreds of years. So, you can use the Cloister Black font in book printing. You can also use Cloister Black to design logos, book covers, posters, website headers, t-shirt designs, and much more.
Cloister Black typeface has older letterforms that are highly stylized and dense but still legible. However, It can typically use as flashy display fonts rather than small text or long body copy. That means if you need a font for the heading or title, download this free font.
Fonts Similar To Cloister Black
Canterbury Old English.
Rochester.
Germanica.
Manuskript Gothisch.
Old London.
Cloister Black Font Combination
Cloister Black + Neacademia Regular
It isn't easy to find a font combination of Black Letter Font. These fonts are usually used for heading and titles. A high legible font is needed for body text/small text with Black letter font.
Neacademia Regular can be a perfect pair with such a blackletter font as Cloister Black.
Font License
Thanks to Herzlich Willkommen for this amazing typeface. Herzlich Willkommen mentions on his website that all of his designed fonts can be used for free only for personal work. For commercial purposes contact the designer.
Cloister Black Font Download Free
FAQ
Is Cloister Black a free font?
Ans: Yes, the version we provide is completely free to use for personal purposes. However, if you want to use it for business reasons, you'll need to upgrade to the premium version.
Is Cloister Black A Good Font?
Ans: Yes, Cloister black is a contemporary, unique, and elegant style that is suitable for print and on-screen usage.
What Type Of Font Is Cloister Black?
Ans: The Blackletter font family is a collection of fonts influenced by the dark, saturated calligraphic letters of the Middle Ages.
Is Cloister Black A Safe Font?
Ans: Yes, The font we are providing is 100% safe to download for both PC and MAC.