About Dune Font
Dune is a movie font. It's called the Dune font because the font was used in the movie Dune. Dune is a new sci-fi movie directed by Denis Villeneuve and based on a novel by Frank Herbet. Dune title's lettering is a tech and sci-fi-based typeface that has a futuristic appearance. Many websites claim that the font has no public version, and some say that it is based on the Canadian aboriginal symbols.
But no need to worry. Free Fonts Lab offers you an inspired version of Dune known as Dune Rise typeface. It was designed and shared by Jesta Designs. The font was designed to look like the title of Denis's movie, and it was originally based on the Indigenous Canadian syllables, which linguist James Evans created as a way to write the languages of Canada's Indigenous people.
Design & Features:
The Dune font has a simple, futuristic decorative look that works well with modern themes. It has all the basic characters and punctuation. Uppercase and lowercase letters are the same height, but some letters look different, giving you more design options. There are both TTF and OTF versions available of this font.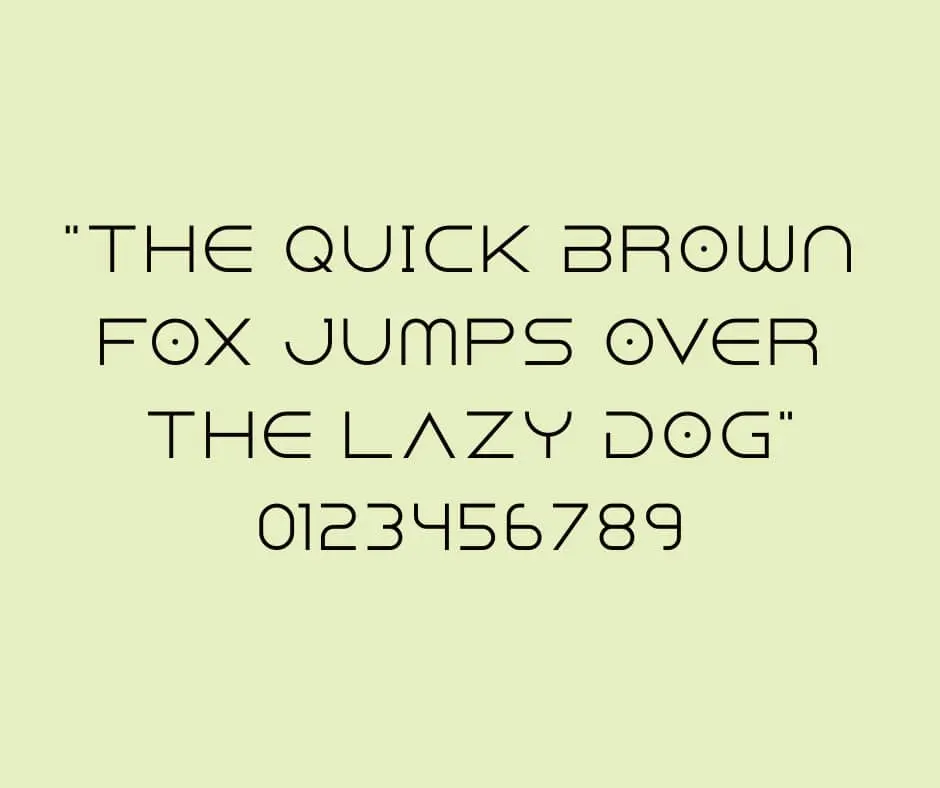 Font Information
Font Usage
Dune is becoming increasingly popular. Its simplicity and sleekness are what make this font so appealing to many. Dune is perfect for any design project that needs a modern look. You can use this font for logos, websites, or anything else you might need a modern look for. If you're looking for a new font to add to your repertoire, Dune is a great option.
In conclusion, this new minimalist and futuristic font is perfect for any type of design project. Whether you're looking to add an extra dose of sleekness to your branding or are simply looking for a new way to stand out, this font is perfect for you! So go ahead and give Dune a try – you won't regret it!
Font License
Many thanks to Jesta Designs. You can use this font for personal and commercial use. As a result, there is no registration or license fee associated with this font.
Typefaces Similar To Dune
The following fonts are similar to Dune minimalist and futuristic typeface:
Abster Font.
Moon Futuristic Display Font.
Warpen Font.
Nebulax Font.
Warzone Font.
Dune Font Download Free
Font Combination
Mixing Dune with other fonts can create a modern and sleek look for your text. This can help to set your text apart from other content and make it more visually appealing. Use the fonts listed below in combination with Dune to get the perfect look for your project.
Moon Sans Serif.
Radio Grotesk Font.
League Spartan Font.
FAQ
Can Dune be used free for commercial purposes?
Ans: Yes, Dune is totally a free typeface. You can use this font free for commercial purposes.
What is the dune font called?
Ans: In the movie title Dune, a font called Dune Rise is used – a font designed by Jesta Designs.
What typeface is most similar to Dune?
Ans: Among the fonts very similar to this one is Abster Font.
Which typeface goes well with Dune?
Ans: Dune pairs well with Moon Sans Serif, Radio Grotesk, Helvetica, and League Spartan.
Are computers and Macs compatible with Dune?
Ans: This font can be used on PCs, Macs, Linux, iOS, and Android devices.