About Granjon Roman Font
In 1592, a typeface called Garamond was used in a book printed by the Parisian Jean Poupy. Later in the mid of 1928-1929, based on the Garamond typeface, George W. Jones designed an old-style serif typeface and named it 'Granjon'. According to information, Jones designed it for the British Branch of the Linotype company. During that time (in the 1920s), There were many Garamonds on the market, and that's why Jones named his typeface 'Granjon'. According to Wikipedia, the Granjon typeface is an old-style serif typeface and was popular in the metal type era. An American typographer Beatrice Lamberton Warde (September 20, 1900 – September 16, 1969, née Beatrice Becker), said that the Granjon typeface was her favourite revival of the French Renaissance typeface. The Granjon typeface was praised by another American typographer, type designer & writer Walter Valentine Tracy RDI (14 l)( 1914 – April 28 1995). The roman version of the Granjon typeface was from French type designer and publisher Claude Garamont (c. 1510–1561), and the italic version of it was from another French type designer and printer Robert Granjon (1513-November 16, 1589/March 1590).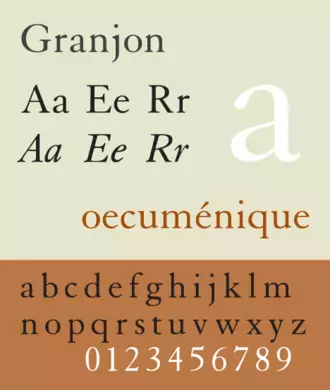 Usage of Granjon Roman font
In many cases Granjon Roman fonts have been used for personal usage and for logo design. However, it can be used for logo designing or to enhance the beauty of the content; this font is used for multipurpose. Granjon Roman font is transitional sans serif font and will be a great choice to use in presentation, letterhead, logo etc. It also can be used for nonofficial & personal usage.
Companies that have used Granjon Roman font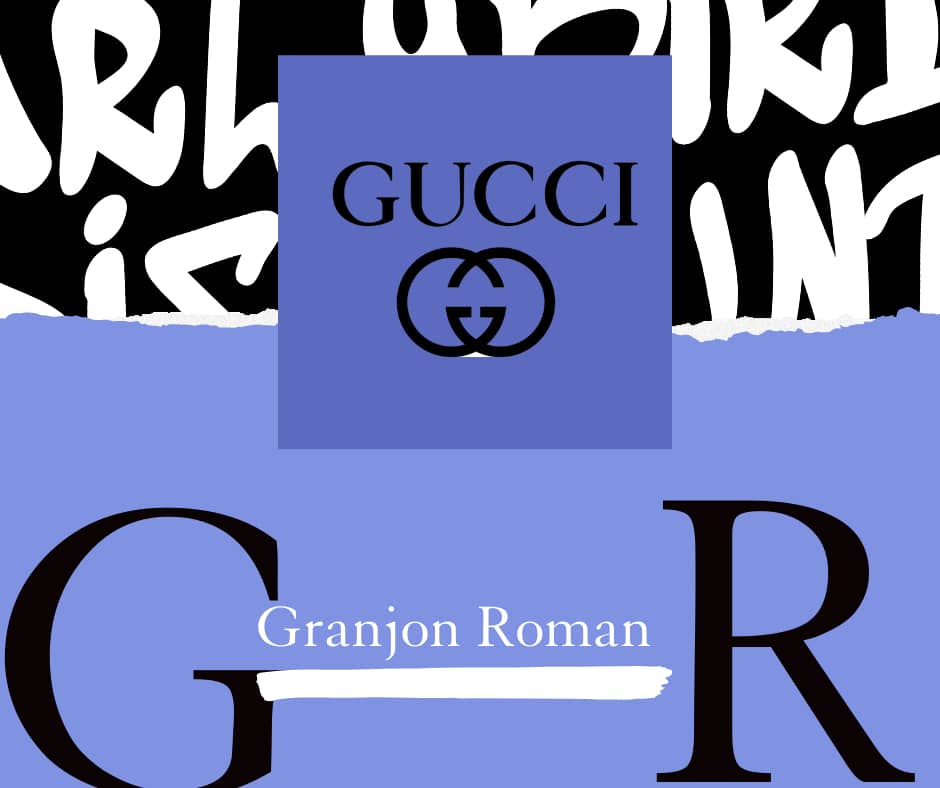 In 1952, the famous Italian luxury brand of fashion and leather goods – GUCCI brand, made its first appearance. Since then, the Gucci brand has been remembered for its quality. Another reason the brand is famous is for its logo. GUCCI brand has used Granjon Roman font for Its logo consisting of two capital letters G in its logo, meaning Guccio Gucci. The logo's beautifully edited & simple design still carries the brand's popularity.
To know more, visit: Gucci logo & Gucci Font.
Granjon Roman Font Download
Granjon Roman is free for personal use only. You can use this font only for your experiment. For a commercial license, Click Here.
To download the Granjon Roman font for personal purposes, Hit the Granjon Roman Font Download button below.
Frequently Asked Questions
What type of font is Granjon Roman?
Ans: Granjon Roman is an old-style serif typeface designed by George W. Jones.
Is Granjon Roman a free font?
Ans: Granjon Roman is free for personal use only. You can use the free version only for your personal experiment.
Is Granjon Roman Font safe to download and use on My PC and MAC?
Ans: Yes, The font we are providing is 100% safe to download for both PC and MAC.
Can we use the Granjon Roman font on online platforms?
Ans: You can use every font downloaded from our website on the online platform, however, there is a request to read the license of the font before using.