About Jabin Font
Jabin is a modern blackletter/gothic font that was inspired by the cover of the Second Part of Natural Scripture and the Gutenberg Bible. This amazing gothic font was designed and shared by Frida Medrano. It was part of his exploration of the new variable font format.
There are 12 .ttfs files for the personal use of the Jabin font family, which includes four weights and three swash styles. It also works with English, Spanish, German, French, and more languages from the Latin 1 group. Jabin has 232 glyphs, such as money, fractions, ligatures, and spacing between letters. There is also a two-axis variable font that comes in two file formats (ttf. & woff.) You can download all of the 12 ttfs and the variable for free.
Design: The Jabin font has uppercase, lowercase, numbers, and punctuations. The lowercase letters have less ornament and are easy to recognize. On the other hand, the uppercase letters have a lot of ornament.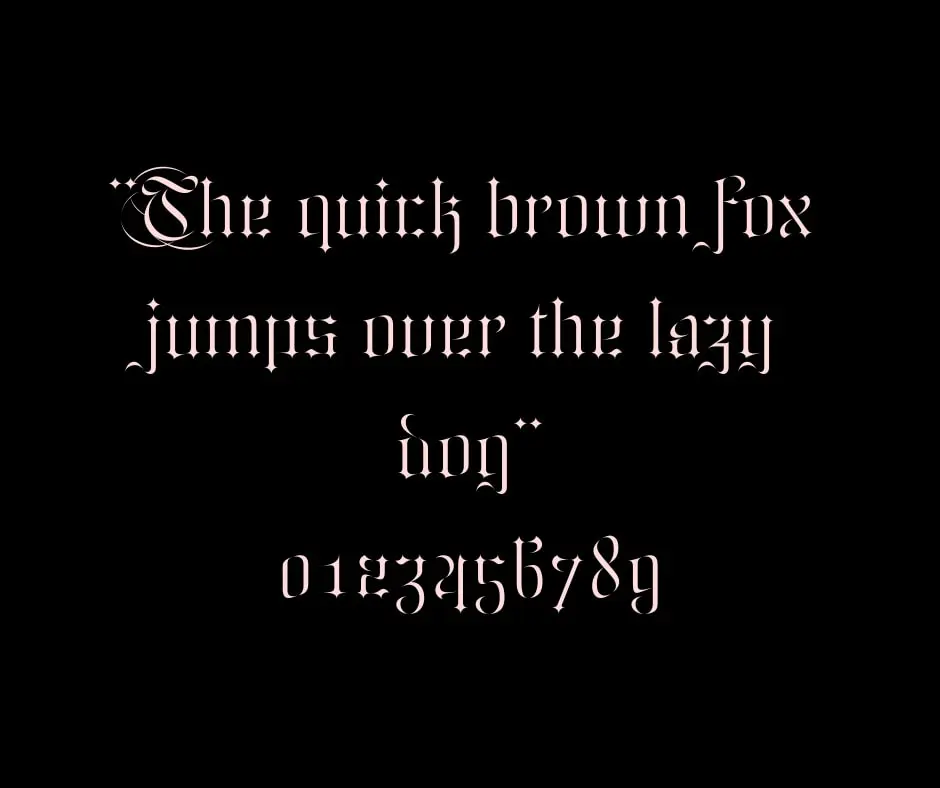 Font Information
Font Usage
Using Jabin font in publications can give your document a unique and timeless look. Even though there is no one right way to use a blackletter font like Jabin, it can be used as an accent or as the main font in a document. When using blackletter fonts, some common styles to think about are Gothic, Renaissance, and Old English. Think about who you're writing for and what style of document you are most likely to like. Once you've decided on a style, please do some research to find the right typeface for it. Lastly, use Jabin as little as possible to keep its impact and appeal.
In conclusion, the Jabin typeface is an interesting and unique choice for designers who want to stand out from the crowd. Even though it may be harder to learn and use, some clients or projects may really like the way it looks. Free Download Jabin font now free from here.
Jabin Font Family
Bold.

Jabin Bold Swash 1.
Jabin Bold Swash 2.

Light.

Jabin Light Swash 1.
Jabin Light Swash 2.

Medium.

Jabin Medium Swash 1.
Jabin Medium Swash 2.

Regular.

Jabin Regular Swash 1.
Jabin Regular Swash 2.
Font License
For personal work, you don't have to sign up or get a license to use the 12 TTF files that come with this font. The variable font with two axes can also be used for free on your own computer. But, If you want to use Jabin for commercial purposes, then there is a commercial version available. To buy the commercial version, click the button below.
Typefaces Similar To Jabin
Here are some great modern gothic fonts that is similar to this:
Osgard Pro.
Lordish.
Gothic Modern.
Bajern Display Typeface.
Jabin Font Download Free
Font Combination
Blackletter font combinations are becoming more popular as they add a unique flair to any document. While there are many combinations to try, these three are the most common and pair well with Jabin: Chancery, Baskerville, and Garamond.
FAQ
Is Jabin free for commercial use?
Ans: No, It is not. There is a commercial version and you have to buy it in order to use it for commercial purposes.
What type of font is Jabin?
Ans: Jabin is a modern blackletter/gothic font designed and shared by Frida Medrano.
What typeface is closest to Jabin?
Ans: Osgard Pro, Lordish, and Gothic Modern are just a few of the fonts that are similar to this one.
What typeface pairs well with Jabin?
Ans: With Jabin, you can combine a variety of fonts. It works best with Chancery, Baskerville, and Garamond
Are computers and Macs compatible with Jabin?
Ans: This font is compatible with the majority of devices, including PCs, Macs, Linux, iOS, and Androids.