About Josefin Sans Font
Josefin Sans was created to be geometric, elegant, and vintage for titling. This sans-serif was inspired by Rudolf Koch's Kabel (1927), Rudolf Wolf's Memphis ( 1930), and Paul Renner's Futura (27). The designer wanted to create something with good design that reflected Swedish design, their passion for good living, and all other Scandinavian styles. Josefin Sans' x height is half of the way between baseline and caps height, making it unlike any modern typeface. This version also features Old Style Numerics. You can download Josefin Sans font for free right from here.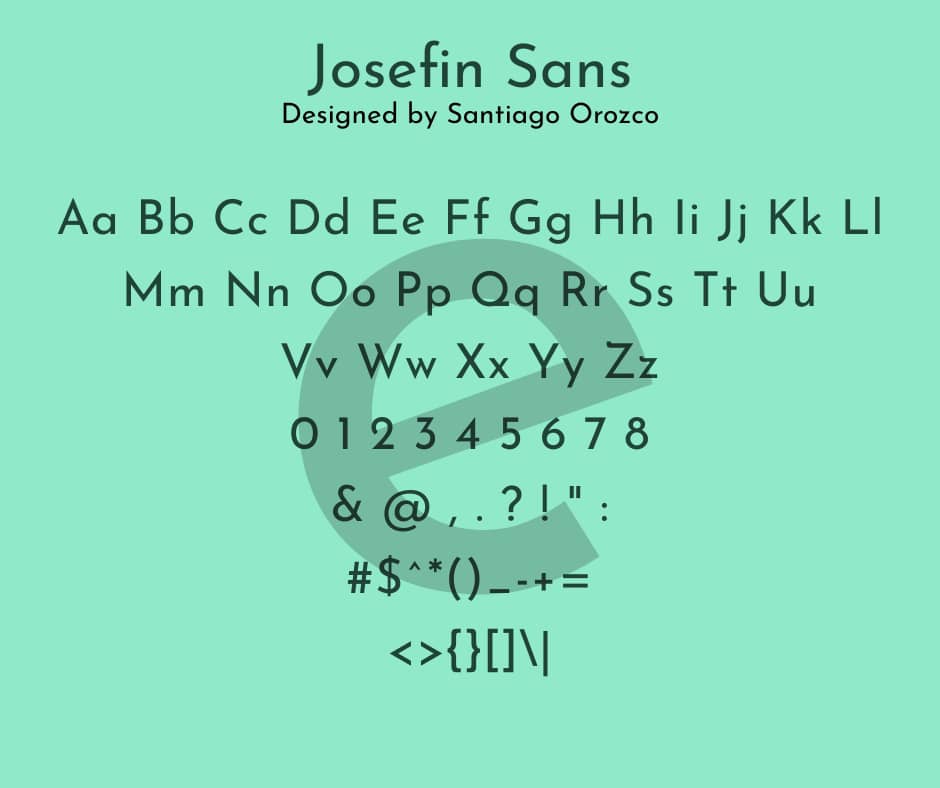 This font was designed to be used within large-sized texts. It can also be used with the Montserrat font, which can be used to create beautiful small text designs.
Free Josefin Sans font was updated in 2019 and designers added weights and styles to make it a variable font. This font family also has a sister font, Slab font.
Usage Of Josefin Sans
Josefin Sans is an excellent font for any kind of work. This font is most appropriate for use on official platforms, design and headlines. It works well when you want to create an elegant design with text. This font is great for formal use. You can also use it on the platforms below:
Banner.
Business Card.
Certificate.
Gift Card.
Website.
Greetings Card.
Brochure.
Official
Documents.
Logos.
Fonts Similar to Josefin Sans
Font Combination
Josefin Sans + Open Sans/Montserrat
As I mentioned earlier, Josefin Sans is perfect for font headings. You can easily use this font in the heading if you want. You can use Montserrat or Open Sans as a pair of Josefin Sans fonts. You can use either of these two fonts as body text if you wish.
Font License
This font is free and you don't have to pay a penny. This font can be used in any product or project, digital or print, commercial or not.
Josefin Sans Font Free Download
FAQ
What Type Of Font Is Josefin Sans?
Ans: Josefin Sans is a geometric sans-serif typeface created by Santiago Orozco.
Is Josefin Sans Font Free?
Ans: It is free for both personal & commercial use.
How Do I Download Josefin Sans Font?
Ans: By clicking our download button, you can easily get Josefin Sans.
Can We Use Josefin Sans Font On Online Platforms?
Ans: You can use every font downloaded from our website on the online platform, however, there is a request to read the license of the font before using.