About Komika Font
Komika is vintage and decorative typeface family. It was designed and shared by Apostrophic Labs & Larry E Yerkes. Komika font family is also known as a comic font. Comic fonts are typefaces that are designed to look like the hand-drawn lettering often used in comics. There are a lot of free comic fonts available online, and Komika is one of the best. The Komika font family contains so many styles, approximately 15. Every style of Konica Font Family contains all basic characters, punctuations, and numerals.
It has both an athletic and comic vibe. This font will catch your attention every time you look at it.
Download Komika Font Family from Free Fonts Lab now. Be sure to read the licensing agreement before downloading any fonts, as some sites require that you credit the author or donate when using their work.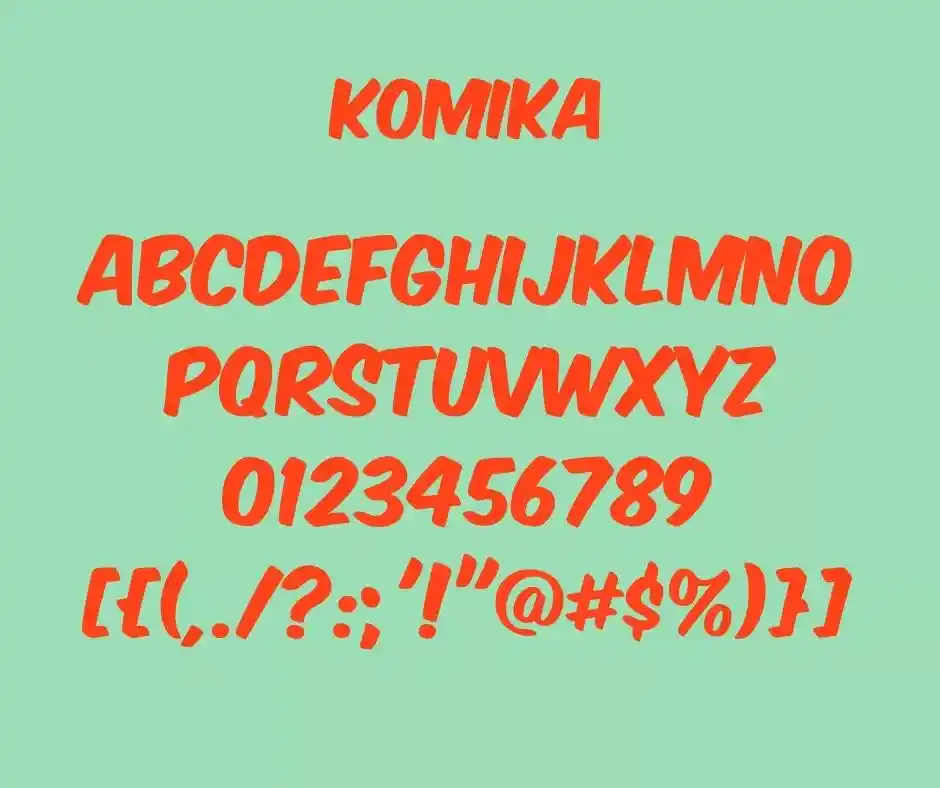 Font Information
| | |
| --- | --- |
| | |
| | |
| | Apostrophic Labs & Larry E Yerkes. |
| | Free For Commercial Purposes. |
Usage Of Komika Font
Using Komika font is a great way to give your text some personality. It can be used for titles, headings, and small blocks of text.
When using a comic font like Komika, be careful not to overuse it. A few well-placed words will add more impact than a whole paragraph in a comic font.
You can also use Komika font on logos and magazines. Since it is a comic font, you can also use this font to cover the comic book's cover page or headline.
Font License
Komika font family is free for commercial purposes but any donation is accepted. By clicking the download font button below, you can download the entire font family.
Font Family
Komika Hand.
Komika Jam.
Komika Slick.
Komika Slim.
Komika Axis.
Komika Tread.
Komika Title.
Komika Boss.
Komika Sketch.
Komika Parch.
Komika Boogie.
Komika Bubbles.
Komika Glaze.
Komika Zoom.
Komika Krak.
Komika Boo.
Fonts Similar To Komika
In my opinion, Komika is a wonderful typeface. However, there are many fonts that are similar to it. Here are a few similar fonts:
Balloon Font.
Bangers Font.
VTC SuperMarket Sale Display Font.
Gonzo Font
True Crimes Font.
Nightmare Alley Rotalic Font
Komika Font Family Download Free
Font Combination
A well-designed document looks professional and reflects the tone of the company or individual it represents. Font combinations are a great way to achieve this goal. Different fonts can be combined to create an overall effect that is both pleasing to the eye and effective in terms of communication. If we talk about a comic font like Komika that is both elegant and vintage then an elegant and modern sans-serif will be a right choice. Komika will pair well with Kabel, Eras, Lato, and Trade Gothic. Besides if you want to use fonts like serif or brush then Paradizo and Clattering Brush can be the right choice.
FAQ
Is Komika a Good Font?
Ans: Yes, it is a best font with a vintage and modern font.
Is there a Google font that looks like Komika?
Ans: Bangers is a Google font similar to Komika.
Can it be downloaded and used on a computer or a Mac?
Ans: Our website has the Komika font available for download. This font will work on both PCs and Macs.
What Kind Of Font Is This?
Ans: Komika is a vintage display typeface designed by Apostrophic Labs & Larry E Yerkes.
Can We Use This Font On Online Platforms?
Ans: This font can be used on online platforms. Using Komika font online is completely safe.