About Lato Font
Lato is a humanist sans-serif typeface designed by Lukazs Dziedzic, a designer from Poland. It was created in 2010 but released in 2015 under the libre SIL Open Font License by Lukazs Dziedzic. The term "lato" means "summer" in Polish. This typeface is available in 18 styles and different weights, with each style presently containing over 3000 glyphs. With over one billion daily visits as of August 2018, Lato swiftly gained popularity after being introduced to Google Fonts, becoming the third most popular online font behind Google's own Roboto and Open Sans.
It's noted for its rounded edges and the inviting warmth it provides the reader. All Latin alphabets, as well as Cyrillic, Greek, and IPA, are supported. In 2014, Lato received an upgrade that included new glyphs. This new version was named "Lato 2.0."
Lato is available on Google Fonts and Dafont. Free Lato font downloads for Windows and IOS are available here. You can download the full font family, including lato regular, semi-bold, black and others.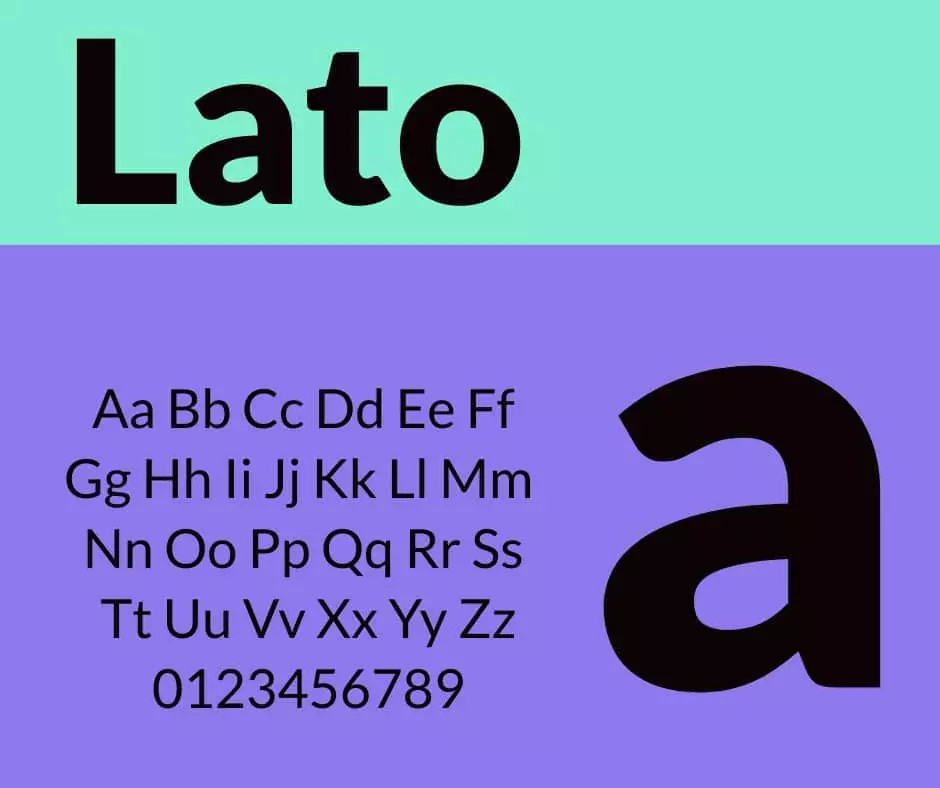 | | |
| --- | --- |
| | |
| | |
| | |
| | |
| | Free Font. ( Google Font) |
Font Usage
It has been used in a number of publications, including information signs and campaign billboards.
Lato is a typeface that is widely used in both digital and print media. It is often chosen for body text because of its clean, legible style. While it can be used for both print and web projects, it is particularly well-suited for the latter because of its wide range of weights.
Lato is a sans-serif font, meaning it does not have the small projecting features at the end of some strokes that a serif font has. This gives it a cleaner, modern look. Lato comes in a variety of weights, making it versatile for headlines, text, and logos.
Fonts Similar To Lato
ITC Flora.
Fruitygreen.
Freight Sans.
Today Sans.
Visby CF Geometric Sans Font.
Oxygen typeface.
PT Sans.
Halton.
Alto.
Font Combination
Roboto, Open Sans, Playfair Display, Proxima Nova, Vollkorn, Ubuntu, Bebas, Georgia, and Roboto Slab work well with Lato.
As part of a creative project, Wendy One can be used with Lato. Wendy One has a unique design, a very friendly appearance and a neutral appearance.
Font License
The font is available under an open source license. It is free for both personal and commercial purposes. This package contains a variety of weights, features, and glyphs. Download Lato Font for free here.
Lato Font Download Free
FAQ
Is Lato font free?
Ans: Yes, the version we provide is completely free to use both for personal & commercial purposes. It does not have a premium version.
What font is similar to Lato?
Ans: Lato is similar to ITC Flora, Freight Sans, Today Sans and many other fonts.
What is the font Lato used for?
Ans: In digital and print media, Lato is a widely used typeface. The clean, legible style of the font makes it popular for body text.
Is this a good font?
Ans: Yes, Lato is 100% safe and suitable for use on the web and in design.