About Proxima Nova Font
Proxima Nova is a font that stands between Futura and Akzidenz Grotesk. It is a sans-serif font designed by American independent type designer Mark Simonson. This font family is a total redesign of the Proxima Sans typeface, released in 1994. Since its first release, Proxima Nova has undergone several updates and improvements. This is a family of 42 fonts, which means it has 8 weights, 3 widths, and matching italics for all weights and widths. Proxima Nova has 1453 characters in its latest version.
Many websites throughout the world use Proxima Nova as their primary commercial (paid) typeface. As of 2015, the geometric typeface was used to represent approximately 25,000 websites; currently, the number is much higher. It is also possible to purchase Proxima Nova as a variable font, known as Proxima Vara, which contains all of the weights and styles of Proxima Nova.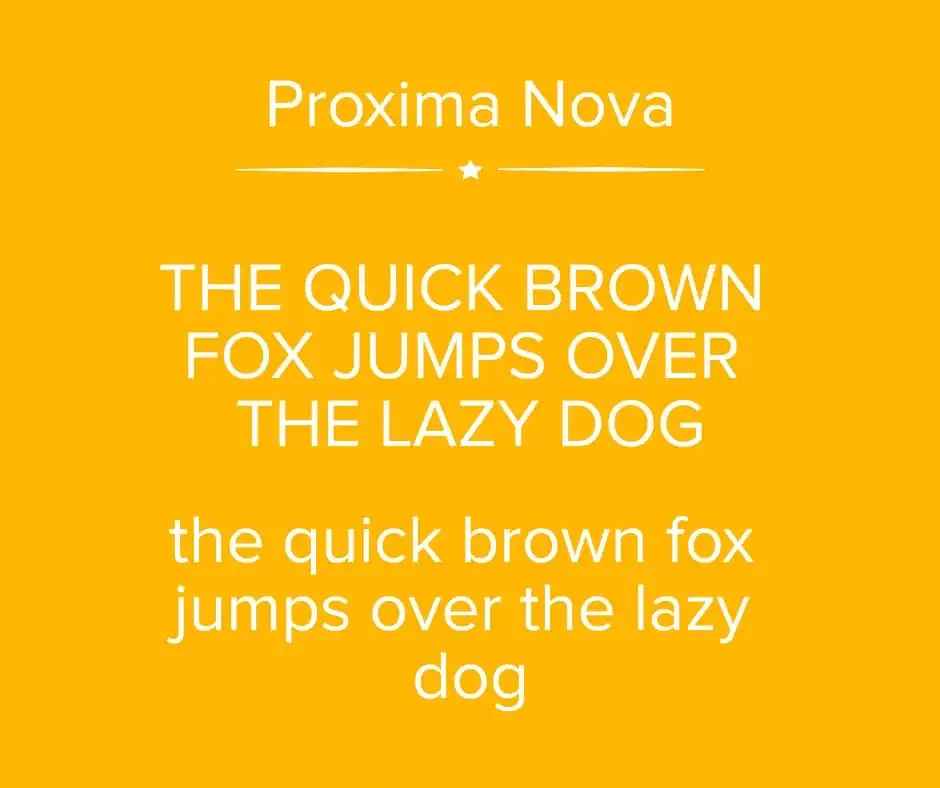 If you are here to download the Proxima Nova font for free, then I am sorry. Proxima Nova Download is not available for free. For more information, check out the license section below. The Proxima Nova font, on the other hand, is available in Microsoft Word and Adobe Fonts. So if you have a creative cloud subscription, then you can use this font. There is also no font generator for Proxima Nova because it is a premium font.
Usage of Proxima Nova Font
Because it is a simple and approachable typeface, many people are turning to Proxima Nova for their design needs. However, this is not the only reason people have all decided to hop on the Proxima Nova bandwagon. There are a couple more, including as
It's ideal for use on screens.
It is highly flexible.
It has a modern feel.
This typeface has the potential to be used in stunning designs by designers. This font family may also be used in formal letters and presentations. So it can be said that the Proxima Nova font family is perfect for all kinds of projects.
Font License
The Proxima Nova font is not for free. You cannot download the Proxima Nova font for free. If you wish to use this typeface for personal or commercial projects, you must purchase it from Mark Simonson, the original license holder. But don't worry, below there are some free alternatives to the Proxima Nova font that you can easily use for your personal and commercial purposes.
Proxima Nova Free Alternatives
Milliard.
Metropolis.
Montserrat.
Geomanist.
Nunito Sans.
Muli.
Raleway.
Acherus Grotesque.
Proxima Nova Font Combination
If you are looking for a creative font combination for your startup and retail, then this font combination of Proxima Nova and Americana font will help you.
Americana + Proxima Nova
Americana is a joyful and friendly font designed in 1965 to commemorate the Bicentennial of the United States. Americana is a distinctive and eye-catching typeface with broad letterforms and an exaggerated x-height that works best for huge headlines and displays. On the other hand, Proxima Nova is a basic and clean sans serif typeface that is frequently used on the internet, particularly by digital media companies. It's incredibly adaptable and doesn't draw much attention to itself, making it an excellent body font to complement more personality-driven heading fonts like Americana.
Proxima Nova Font Download
FAQ
Is Proxima Nova free font?
Ans: No, Proxima Nova is not a free font. To use it, you must purchase a license from the original license holder.
What font is Proxima Nova?
Ans: Proxima Nova is a sans-serif font designed by American independent type designer Mark Simonson.
How do I install Proxima Nova?
Ans: If you wish, you can download the Proxima Nova font from our website. By clicking on the download button, you will be directed to the designer's website. It is available for both Mac and PC.
Is Proxima Nova A Google font?
Ans: No, it is not a Google font. However, Montserrat is the closest font to Proxima Nova on Google.