About Minecraft Font
The Minecraft video game is a sandbox game developed by Mojang Studios. It was created by Markus, also known as "Notch." May 2009 was the first time it was made public. In November 2011, it was fully released. As this game becomes more popular, the fonts Minecraft uses also become more popular. In this game, the fonts used were designed to correspond to the game's theme, showing many elements. Today I will discuss the fonts used in this game.
What font does Minecraft use?
As I said in the beginning, every font used in the Minecraft game is specifically designed for the game; therefore, every font used in this game matches the game's theme. So, unfortunately, none of the fonts used in this game have been released by the Minecraft authorities. However, many type designers have designed similar style fonts inspired by the fonts used in this game. Here are some:
MineCrafter Font.
Minecraft Font.
Minecraft Evenings Font.
About MineCrafter Font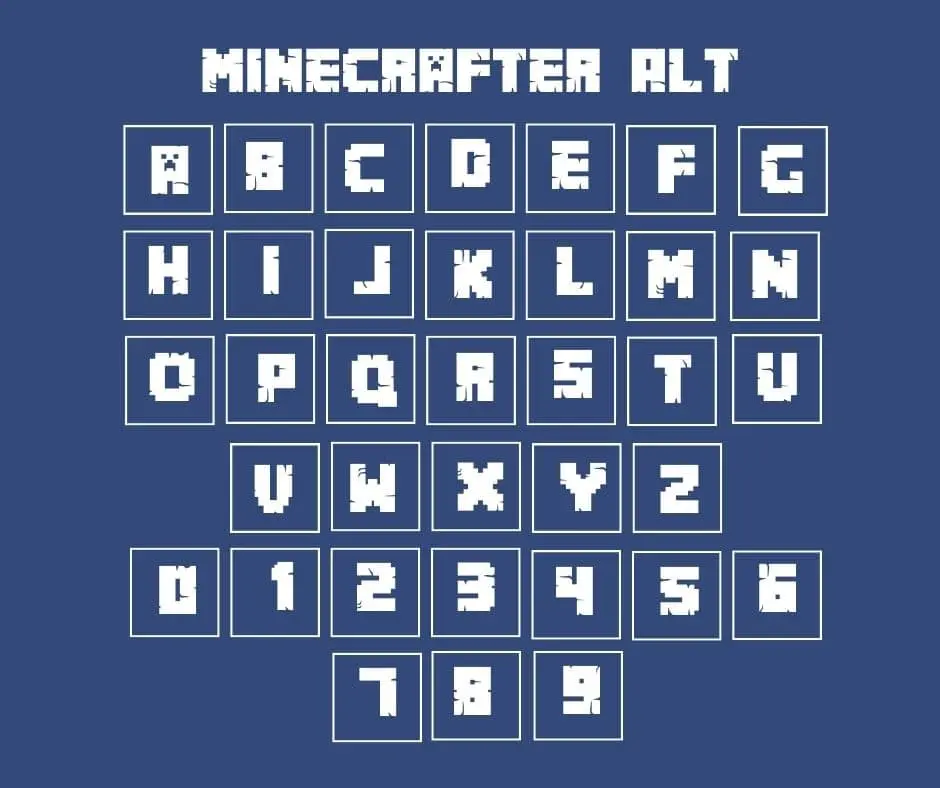 MineCrafter is a decorative font designed and shared by Ashley Denham (aka MadPixel and Pure Pixel). It is a font based on the main Minecraft font (logotype). MineCrafter features two styles: a regular version and a cracked version. This font family also features:
Uppercase & Lowercase Letters.
Numbers.
Unfortunately, there are no symbols. But it is expected that the updated version of this font will be available very soon. MineCrafter is free for personal purposes only. To use this for commercial purposes, you have to contact the designer through the following mail for a commercial license: ashphillips12@gmail.com.
About Minecraft Font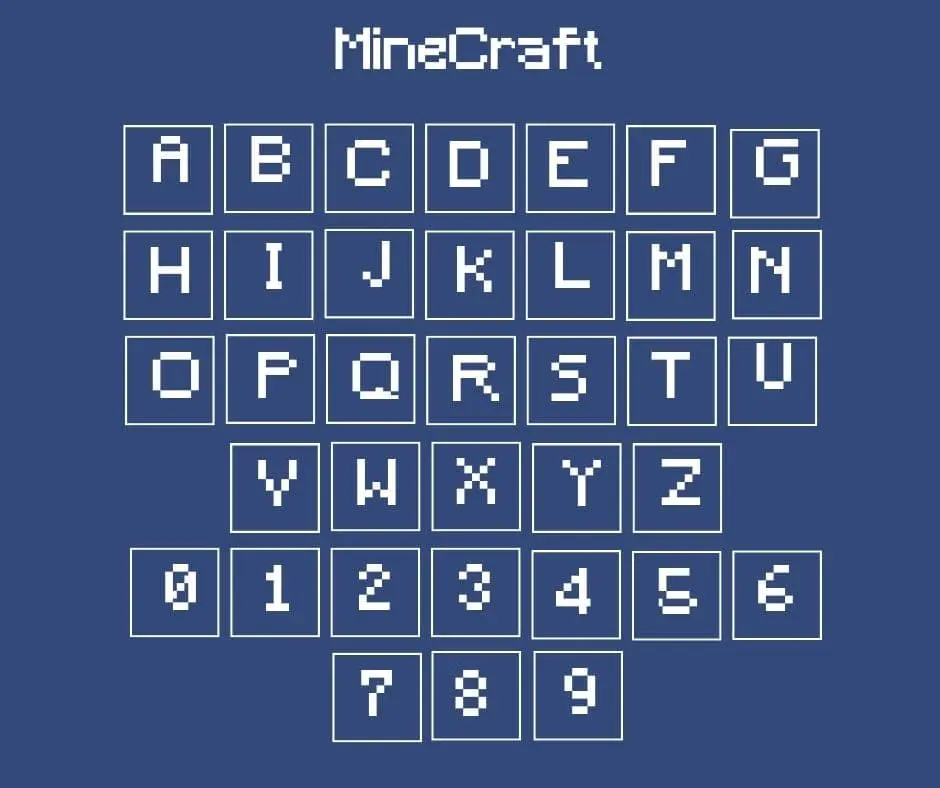 Minecraft is another similar font by Craftron Gaming. This looks like the pixelated font you see in chat, when crafting, and when using your inventory of the Minecraft game. This Minecraft font is available in one style. It features:
Uppercase & Lowercase letters.
Numbers.
Few Symbols.
This font is free for personal and commercial use. No license or Sign up needed to download this free font.
About Minecraft Evenings Font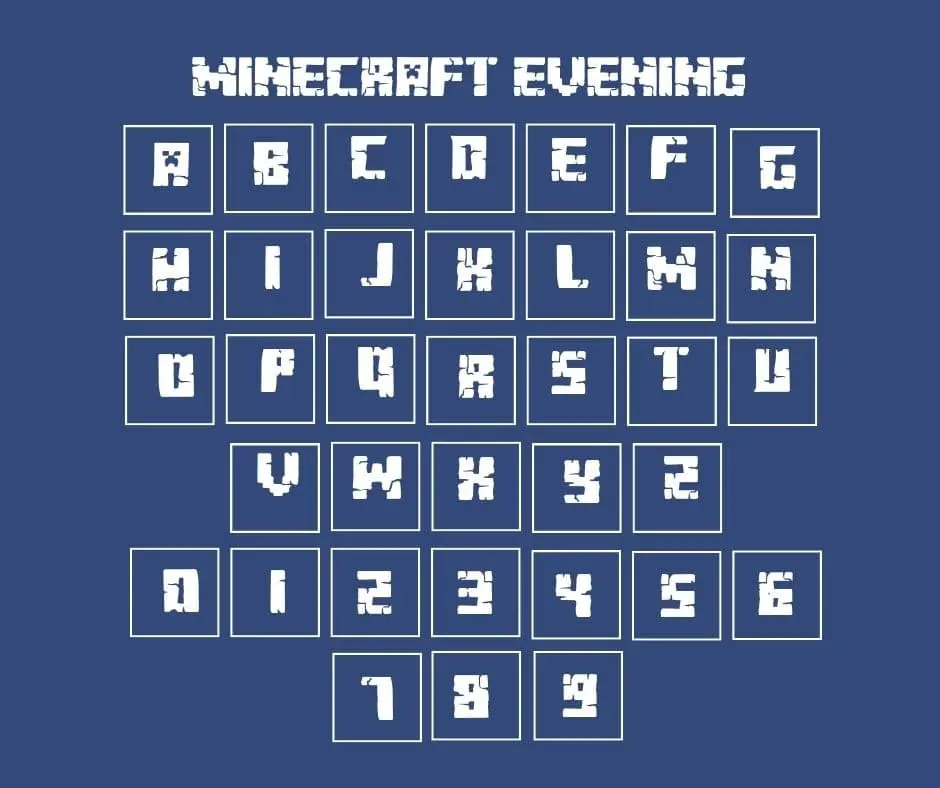 Minecraft Evenings is another display font designed by Chequered Ink. It was also inspired by the game's logo. This font also has the same features as the other two. Minecraft Evenings also features uppercase letters, numbers, and a few punctuations in one style. This font is available for free only for personal purposes. For more about the license: click here.
Why Should you use Minecraft font?
Minecraft is one of the most popular video games in the world. It's a block-building game where players use various blocks to build things. One of the most important aspects of Minecraft is the font used in the game. If you want to make your own videos or text presentations, using this font can help make your content look more professional. Also, If you want to look your logo like Minecraft, then you can also use this font. Lastly, this font is very useful for marketing material as it is very familiar to people.
Font Information
| | |
| --- | --- |
| Font Name: | Minecraft. |
| Similar Font: | MineCrafter, Minecraft, Minecraft Evenings. |
| Style: | Logo Font. |
| License: | Free Font. |
| Version: | Latest. |
Make your own Minecraft 3D Text
If you find downloading a hassle but still want to create your logo or other designs using Minecraft fonts, then this section is for you. I found a cool Minecraft text generator that lets you write whatever you want and then change it by adding different Minecraft blocks. TextCraft makes it easy to make text that looks like it belongs in Minecraft. And the good news is this is free; no sign-up or charges are needed.
Click here to go to the TextCraft website. From there, you can make text that looks like Minecraft. You can type your own text and change the bricks' colors, sizes, and textures. Then you just need to click the "Create" button, and you can start downloading. Thank You.
FAQ
Is Minecraft typeface free for commercial use?
Ans: No, not all fonts are free to use for commercial use. Only Craftron Gaming's Minecraft is free to use for commercial use.
What is Minecraft's font called?
Ans: "MineCrafter" is the name of the font which is inspired from the font used in the Minecraft logo. Ashley Denham made Mine Crafter, which is a free font. It's free to use for yourself. MineCrafter is a type of techno font that can be used on any computer with PCs, Macs, Linux, iOS, or Android.
Are computers and Macs compatible with Minecraft?
Ans: All PCs, Macs, Linux, iOS, and Android devices are compatible with this font.
Is it safe to download and use this font on my PC and MAC?
Ans: You can use this font without any risks. It is easy to download this font from here.
How do I get the Minecraft font?
Ans: In this post, You can get the Minecraft inspired font. I have shared with you the download links of three fonts and each font is inspired by the font used in Minecraft
What is the easiest way to install this font on to my device?
There's no reason to be worried. Please follow our directions.
You may also find out more about typography and how it is classified from here.
Please do not hesitate to contact me if you have any questions. Thank you very much!