About Monoton Font
Multi-line fonts are built on multiple parallel lines. They are especially popular for headlines, as they are able to attract attention to the readers. Monoton is one of the great multiline fonts. Also on the right side, you will find more multiline fonts which are a lot like Monoton. You can download Monoton font for absolutely free.
Monoton is a modern-day version of a metal press font like the "Prisma" designed by Rudolf Koch in 1931. Monoton is a true display Webfont developed to be used with font sizes greater than thirty factors. It is created to be used freely across the internet by web browsers that use the internet on laptops, desktops, and mobile phones.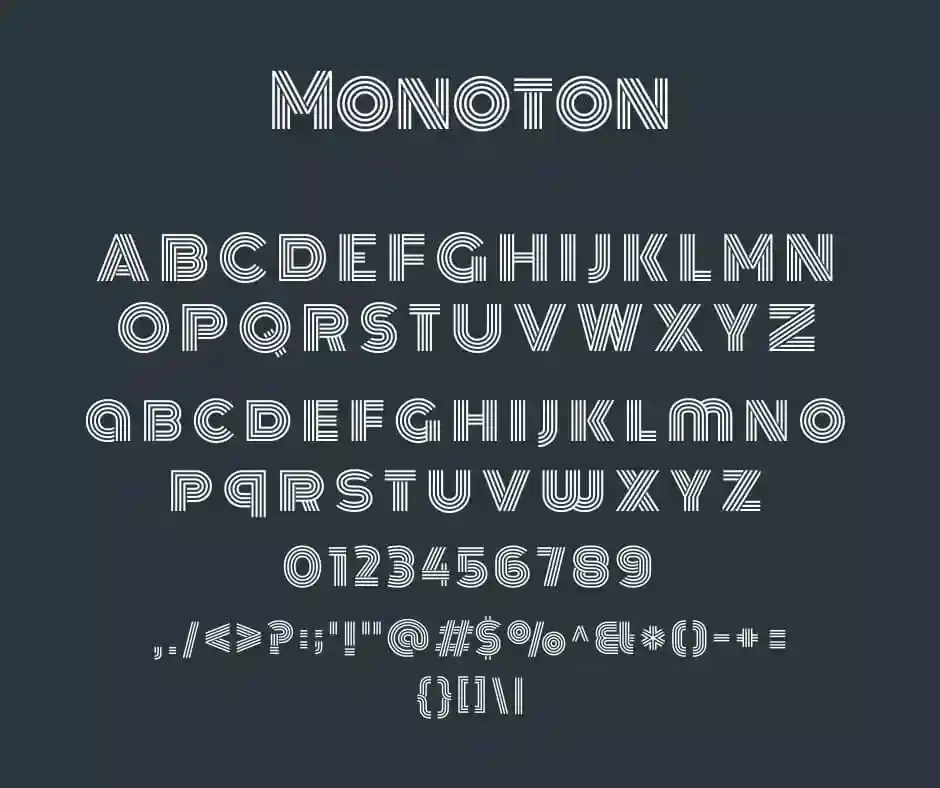 Designed by Vernon Adams, This multiline typeface is very much eye-catchy and contains uppercase, lowercase, numbers and punctuation. Monoton is a google font. Free download Monoton font now! For a free download click on our download button below.
Usage of Monoton Font
Monoton is a great font to create headlines, logotypes, clothing, album art and much more than your imaginative mind could ever want! This is an extremely eye-catching font and when you apply it to your work, it will differ from the rest. Monoton is a wonderful option for web pages and digital art. Many designers describe it as a perfect font for DIY projects, labels, quotes etc.
Fonts Similar to Monoton
Font Combination
Monoton + Righteous
Monoton is great for big text and headings. It's a good match for Righteous. Righteous was inspired initially by all capitals letterforms derived from the posters from the deco period of Hungarian designer Robert Berney for Modiano. You guys can follow the instruction from the image above.
Font License
Monoton Font is licensed under the Open Font License. It is free to use in your projects and products either digital or print-based commercial, as well as others.
Monoton Font Free Download
FAQ
What Type Of Font Is Monoton?
Ans: Monoton is a multi-line display typeface designed by Vernon Adams.
Is Monoton Font A Free Font?
Ans: Monoton is a google font. It is free for both commercial & personal purposes.
Is Monoton Font Safe To Download And Use On My PC And MAC?
Ans: Yes, The font we are providing is 100% safe to download for both PC and MAC.
Can We Use Monoton On Online Platforms?
Ans: You can use every font downloaded from our website on the online platform, however, there is a request to read the license of the font before using it.