About Open Sans Font
Open Sans is a humanist sans serif typeface by Steve Matteson. It was commissioned by Google and launched in 2011. It is a modified version of Steve Matteson's Droid Sans design which was designed for Android smartphones. However, it is slightly larger. Open Sans includes the entire 897 character set. This includes the ISO Latin 1, Latin CE, and Greek character sets. Open Sans is a typeface that combines positive stress and open forms. It has a friendly, neutral appearance. It is optimized for print, web, and mobile interfaces and features excellent legibility in letter forms. Open Sans Font Download is available here for free of cost.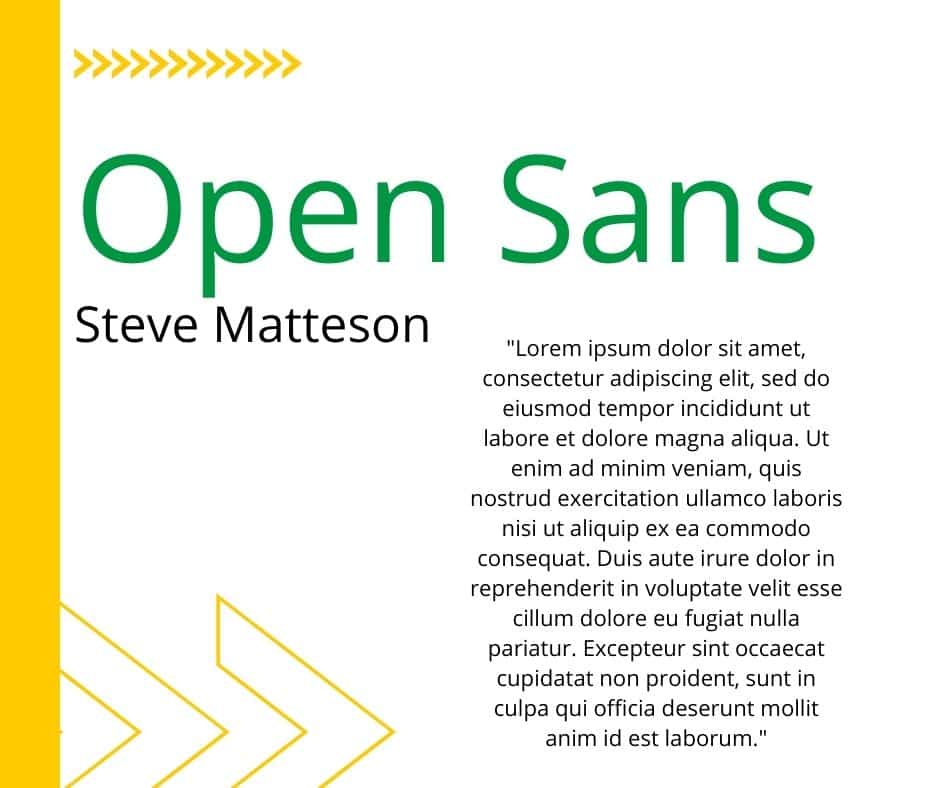 Open Sans comes in five weights: 300 Light, 400 Normal, Semi-Bold 600, Bold 700, and Extra Bold 8. Each version has an italic counterpart, making ten. There are many stylistic alternatives, including a seriffed capital "I" (for situations when this could be misinterpreted with a number 1 or lower-case "l") and the option of a single-story or double-story "g". You can set numbers as either proportional or tabular lining figures, or proportional text figures. In March 2021, this family was upgraded to a variable-font family. It also includes Hebrew.
Matteson also added Open Serif to the Open family in 2016. This was also designed with the goal of increasing the legibility of serif fonts.
Usage Of Open Sans Font
The font family Open Sans was quickly a favorite of web designers in 2010 due to its wide range of weights: Open Sans Light, Open Sans Semibold, and the body-friendly Open Sans Regular font are mostly used it the web platform.
Open Sans is still the most popular web font family, even after ten years. It is extremely versatile, neutral, and easily readable, making it suitable for many purposes. Open Sans is an easy choice for web and mobile design. The font complements minimal and flat designs very well.
Open Sans is also a popular choice for brand design. Open Sans' neutrality and friendliness has made it a popular choice in corporate, educational, and political identities. It is also a common choice in body fonts for a variety of brands identities.
Fonts Similar to Open Sans
Adelle Sans.
Freight Sans.
FF Kievit.
Source Sans.
Droid Sans.
Lato.
Brands/Institutions That Use Open Sans Font
Open Sans is the most influential font in modern web design. The font family Open Sans was created to ride the wave of flat user interface design popularity in the early 2010s. It is still a very popular typeface that continues to be used by many people, and it remains at the top of the most-used list a decade later.
Open Sans is used by the UK's Labour, Liberal Democrat, and Co-Operative parties. It also appears on a wide range of universities including Carnegie Mellon University (CMU), Washington University, and Tel Aviv University.
Open Sans is found on some Google web pages, as well as in its print advertisements and web ads. It is the default typeface of Mozilla for websites, and it is also used in the Telegram Desktop App.
Font Combination
Lobster + Open Sans
Because Lobster font is perfect for headlines but would make a longer text difficult to read, you can pair it with Open Sans font. If you combine these two fonts then it will make your design look more attractive.
Font License
Open Sans font is licensed under Apache License Version 2.0. It can be used in any product or project, digital or print, commercial or other purposes. Download the font free by hitting the button below.
Open Sans Font Download
FAQ
Is Open Sans A Font Free?
Ans: Open Sans font is licensed under Apache License Version 2.0. It is a free font.
What Type Of Font Is Open Sans?
Ans: Open Sans is a humanist sans serif typeface by Steve Matteson. It was commissioned by Google and launched in 2011.
Can We Use Open Sans Font On Online Platfroms?
Ans: You can use every font downloaded from our website on the online platform, however, there is a request to read the license of the font before using it.
How Do I Download Open Sans Font?
Ans: By clicking our download button, you can easily get Open Sans Font.