About Panton Font
Panton font is a sans serif typeface designed by Svetoslav simov and Ivan Petrov. It comes in two formats: OpenType format (OTF) or TrueType Format (TTF). This font was released by Font Fabric. Panton-type family first appeared in January 2015 with basics. It was then later released as Panton Narrow in May 2018. This expanded version was also available in May 2018.
What's Included
54 fonts.
608 font Glyphs.
19 uprights.
19 italics.
16 bonus icon sets.
OpenType Features
Ligatures.
Stylistic Alternates
Localized Forms. (Substitute
character for the preferred form
based upon script language.)
Case-Sensitive Forms.
Numerators.
Denominators.
Fractions.
Tabular Figures.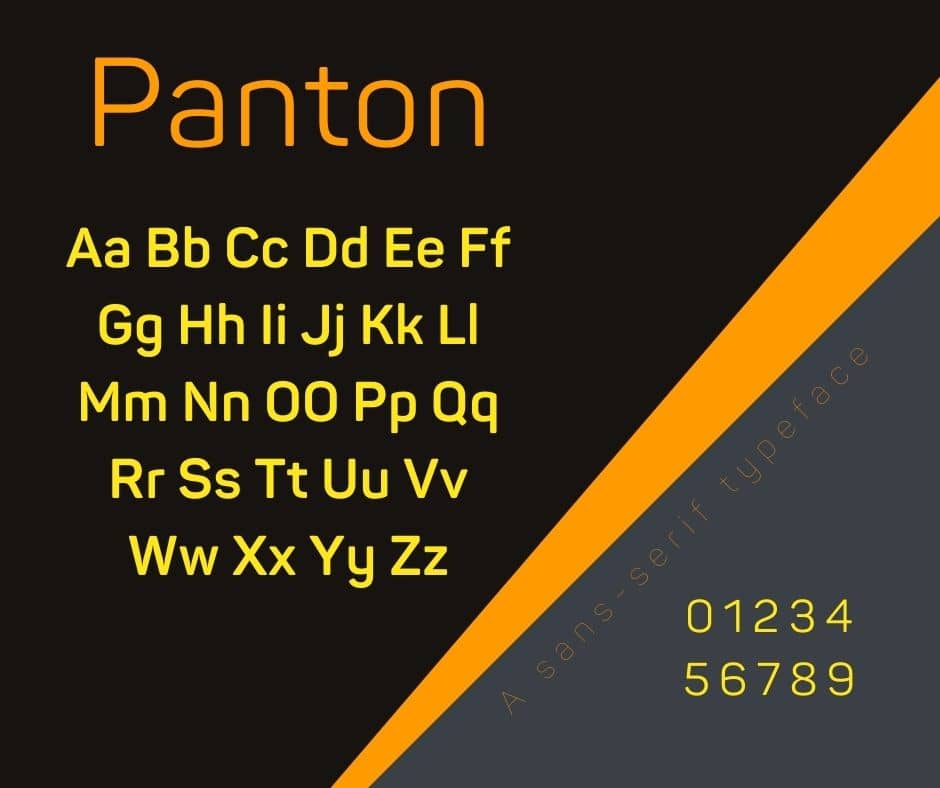 Panton is inspired by the classic Grotesque typeface. Work Sans and Kuro are very similar to Panton. For your personal use, we offer the Panton Font free of charge. 8 Panton FREE fonts available with Cyrillic supported. This font is available for download from our website. Just scroll down and hit the "Panton Font Download Free" Button.
Usage Of Panton Font
Headline: Panton font is ideal for text blocks with maximum and minimum variations and headlines of all sizes. This font is additionally very useful for official documents.
Graphic Design: This font style is eligible for any sort of graphic design. You can make logos, brochures, banners, posters, presentations, t-shirts and lots more.
Device friendly: An excellent site of Panton is that it is PC, Mobile phone friendly.
Operating-system (OS) friendly: As Device friendly, Panton font is not OS sensitive. It can also be used in windows, Linux, Mac, Android, and iOS.Web: The 16 icon sets will offer you extra benefits to your website and everything. it's also perfect for web & print design areas.
Fonts Similar To Panton
FF Sizmo: FontFont published FF Sizmo, designed by Verena Geralach. FF Sizmo contains 15 styles.
Kuro: Kuro is a precisely rendered sans-serif typeface by The Northern Block.
Glober: Glober is influenced by the classic grotesque fonts. Its unique style is expressed in softened geometric forms.
Work Sans: Wei Huang, an Australian type designer, led the Work Sans project. It is a typeface family based on early Grotesques.
Uni Sans: Uni Sans fonts include 14 weights, seven uprights and seven italics. It's easy to read in print and web design.Zona Pro: ZonaPro is a geometric sans-serif family that includes 9 styles and matching italics.
Brands That Use Panton
Nemiroff, an international brand of alcohol from Ukraine, was founded in 1999. Their vodka is very premium, and the Panton font has been used to communicate that. The display / sub-headings can be switched between Bold or Regular very easily.
Font License:
It is a free font available through font fabric. It is free for only personal use. If you want to use it commercially, then please buy the font. To buy the font click here. Also, You can download the free version right from here by clicking the Panton Font Download button below. 8 free fonts are available in the free version.
Panton Font Download
FAQ
Is Panton A Font Free?
Ans: Yes, Panton is a free font available through fontfabric. It is free for only personal use.
What Type Of Font Is Panton?
Ans: Panton font is a sans serif typeface designed by Svetoslav simov and Ivan Petrov.
Can We Use Panton Font On Online Platforms?
Ans: You can use every font downloaded from our website on the online platform, however, there is a request to read the license of the font before using it.
Is Panton Font Safe to Download And Use On My PC And Mac?
Ans: Yes, The font we are providing is 100% safe to download for both PC and MAC.