Script fonts are a font format that was popularized in the 1990s as a way to add an element of customization and style to web pages. Script fonts contain special characters that are used to create text effects, and they're great for adding an extra layer of sophistication to your website or blog post.
In this brief article, we'll take a look at what script fonts are, how to use them on your website or blog, and some of the benefits that you can expect from using them. So whether you're looking for a unique way to add character and style to your content, or you just want to make your website look more polished and professional, script fonts may be the perfect solution for you!
What Are Script Fonts?
Script typefaces are made to look like handwriting, which has different and often fluid strokes. They are a great way to show your personality on your blog or website. They can be used for logos, headings, and even text. Because they are so versatile, script fonts can be used in a variety of different styles.
Types of Script Fonts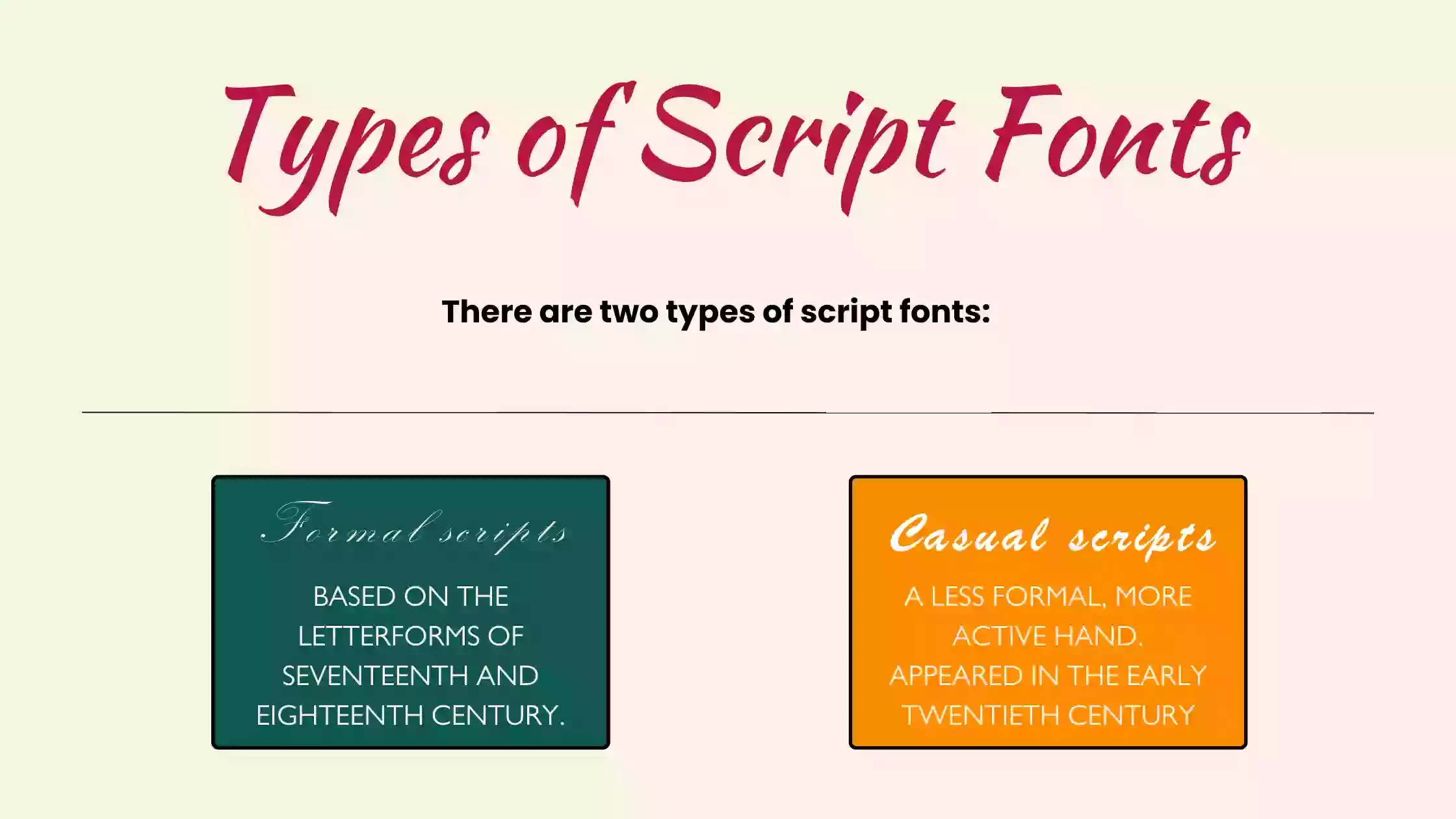 Usually you can see two types of script fonts.
Formal scripts
Most formal scripts are based on the letter shapes of famous writers from the 17th and 18th centuries, such as George Bickham, George Shelley, and George Snell. When the letters were first made, they were made with a quill or the metal tip of a pen. Both can make both thin and thick lines. By the end of the 18th century and the beginning of the 19th century, typefaces were made based on how people wrote. The typefaces Kuenstler Script and Snell Roundhand by Matthew Carter are examples of formal script faces that have been brought up to date. People often use these typefaces on invitations and diplomas to give them a high-class feel.
Casual scripts
Casual scripts are written in a less formal and more lively style. The lines may be different widths, but they often look like they were made with a wet brush instead of a pen nib. They first appeared in the early 1900s, and their number quickly grew when photo composition was invented in the early 1950s. In Europe and North America, they were often used in ads until the 1970s. Brush Script, Kaufmann, and Mistral are all examples of types of casual script. Some of them may not connect to each other, like Freestyle Script.
How To Choose The Right Script Font
Here are some tips to help you choose the right script font for your blog:
Choose a typeface that is familiar to you. If you are not sure what typeface to choose, try looking for a typeface that is similar to one that you already use in your personal or professional life.
Choose a script font that is easy to read. Make sure that the letters are large enough so that they will be legible from a distance.
Consider the tone of your blog or website. A playful script font might be appropriate for a blog about fun things, while a more serious font might be better for a blog about politics or business topics.
Things To Remember When Using Script Fonts
Kerning is not necessary
Kerning, which is the process of adding or taking away extra space between characters, is a great way to fix awkward spaces between letters or add some visual interest to your type.
So, never add extra space between words in script fonts. These fonts are made so that the letters flow together in a certain way, and if you mess with the kerning, the type will often look broken or unconnected.
Use a serif or sans serif font with a script font – never another script font
Script fonts are great for adding a little something extra to a design, but they are often hard to read. Because of this, you should never pair a script font with another script or handwritten font. Instead, you should always use a clean, easy-to-read serif or sans serif font.
For important information, do not use Script fonts
As was already said, script fonts can be hard to read, so you shouldn't use them for important messages. Instead, use a serif or sans serif font for your headlines and important information, and use script fonts to draw attention or add personality.
The text shouldn't be in all caps
Again, script fonts can be hard to read, and making them all capital letters makes that problem even worse. Plus, it doesn't let the characters connect and flow together the way they were meant to, which will mess up your whole design.
Is Script Font Best For Web?
There is no definitive answer to this question as it depends on the type of website that you are creating. Some people believe that using a script font is best for the web because it is more legible. Script fonts are also easy to update and change if needed. Other people believe that using a Comic Sans font is best for the web because it is more stylish. Ultimately, it depends on your preferences as a designer.
Why Should You Use Script Fonts?
Now that you know what a script font is, you might be wondering why you would want to use one. Well, here are a few good reasons why you should use them.
Versatility is an advantage
Script fonts are versatile and perfect for creating a professional look for your website or document. They can be used for any type of text, from headings to body copy. They're also easy to read and work well with a variety of designs. If you're looking for a font that will give your documents a high-quality look, try out a script font.
Design with Flair and Sophistication
Most of the time when you use fonts, you realize right away that there's nothing interesting about them. Well, it happens quite a lot. But script fonts give your designs a sense of elegance and sophistication that brings them to life.
What are the best script fonts?
There are a few things to consider when choosing a script font: the style of the font, the size of the font, and how easy it will be to find a license for the font. Here are some of the best script fonts:
Where can I download script fonts?
Script fonts are widely available on the internet, but it's important to be aware of which fonts are safe to use in your documents and which ones may contain malicious code.
There are a few popular sources for script fonts: Google Fonts, Typekit, and MyFonts. Each of these sources has its own guidelines for choosing safe fonts, so be sure to read them before using any of the fonts on their sites.
Another option is to find fonts online and download them directly to your computer. This can be risky because not all fonts are safe to use, and some may contain malicious software. But Free Fonts Lab is the safest font library for free fons. So, If you are looking for free script fonts then Free Fonts Lab is the only safest option left.
FAQ – Script Fonts
What are script fonts used for?
Ans: Script fonts are versatile and perfect for creating a professional look. Script Fonts are generally used for display and printing purposes. You can often see them on invitations or business cards, headings, magazines, on t-shirts, and so on.
What does script font mean?
Ans: The letters in a script typeface are made by hand with a brush or a calligraphy pen. They have a unique fluidity of stroke that makes them stand out. In simple terms, it is writing with a brush and joining the letters. They were mostly used for advertising, packaging, and signs.
Are handwritten fonts script?
Ans: Yes, handwritten fonts are script fonts but not all script fonts are handwritten.
Lastly
Script fonts are becoming more and more popular due to their versatility and ease of use. They can be used for a variety of different purposes, from creating headers and footers to adding accents to text. If you're looking to up your web design game, using some script fonts is a great way to do so. In this article, I have discussed some of the usage of script fonts, as well as give you a few resources where you can find them free or cheap. So whether you're just getting started with web design or any projects that need a stylish look, taking a look at some script fonts can help your skillset and results.