About Swera Font
The demands of the bold and geometric style between the display fonts are higher among the designers. The Swera is a modern display typeface with a heavy look that can be used for any kind of design project, such as logos, posters, magazines, or web pages. It has been designed by using the latest trends in typography to create this unique typeface. This font family includes four styles: Regular, Bold, Italic & Shadowed. With 406 Glyph Count, Swera font is very much similar to the Squid game title font. Download Swera font for free! It is the demo version of Swera.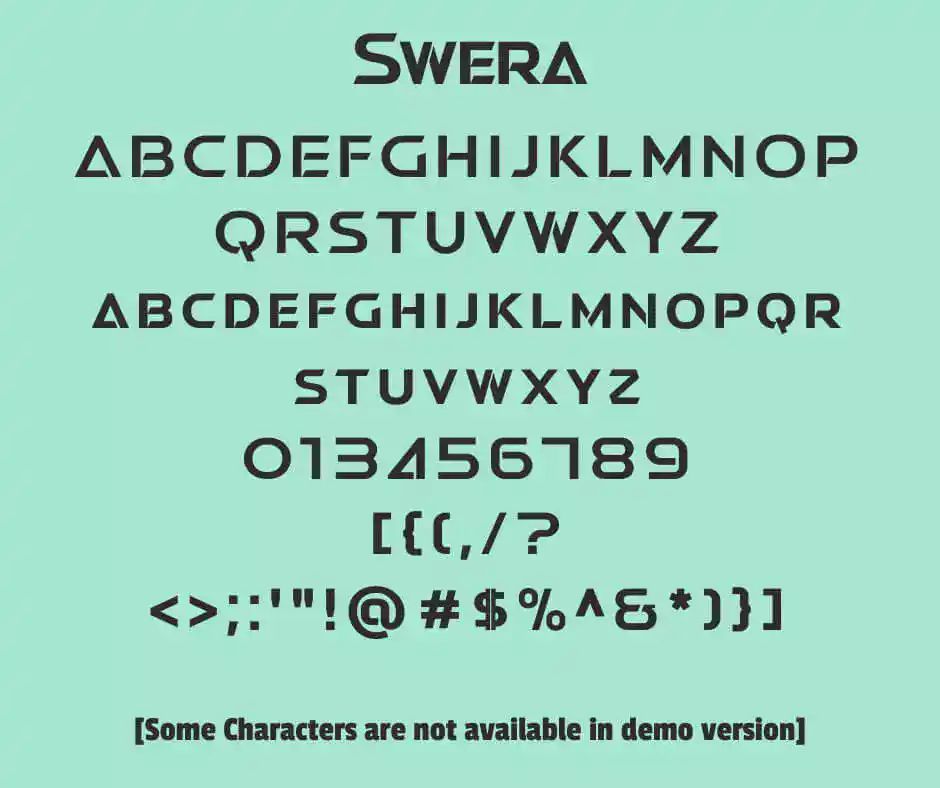 This amazing decorative font was designed and shared by Studio Typo. Swera font includes uppercase, lowercase, numerals, punctuations, and multilingual supports. All fonts are available in OTF (Open Type Formats). Swera Font is free to download from Blog With Joy. Swera is a Sci-fi Type font that is compatible with any device, including computers, Mac, Linux, iOS, and Android.
Usage Of Swera Font
The most common uses of Swera font includes:
Headlines on newspapers and magazines.
Logos and trademarks.
Advertising copy.
Product packaging.
Corporate identity.
Web page headers.
Book covers.
Television credits.
Film titles.
Music album cover art.
Video game box artwork.
Fonts Similar to Swera Font
The Shape Of Things.
Jack Frost.
Mandatory Plaything.
Vudotronic.
Betrayal of Mind.
Font License:
Attention! Swera demo font is free for only personal purposes. You have to buy the pro version from the link below for the commercial purpose↓
Swera Font Free Download
FAQ
What Type Of Font is Swera?
Ans: Swera is a modern display typeface with a heavy look Designed and published by Studio Typo.
Is Swera A Free Font?
Ans: Swera is not a free font but the demo version is available free for personal purposes only.
Is Swera Font Safe To Download And Use On My PC And MAC?
Ans: Yes, The font we are providing is 100% safe to download for both PC and MAC.
Can We Use Swera On Online Platforms?
Ans: You can use every font downloaded from our website on the online platform, however, there is a request to read the license of the font before using it.