About Bergen Sans Font
Bergen Sans is a family of six contemporary sans serif fonts. Bergen Sans has a clean and stylized Scandinavian design, which is combined with explosive post-Bauhaus font aesthetics. It is a great companion for any designer's survival' kit. Although it is a small font family, it offers unlimited possibilities and lots of Open Type features that can be used professionally. Bergen Sans supports Extended Latin, Cyrillic (including Bulgarian alternatives) and Greek language support. Download Bergen Sans Font now.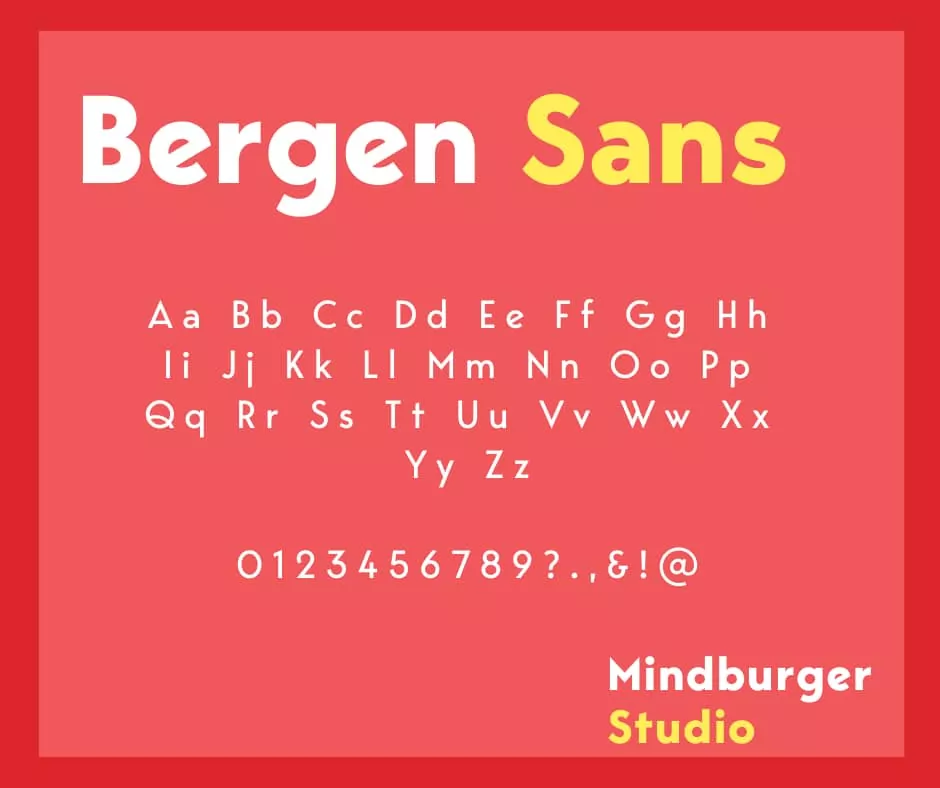 Mindburger Studio published Bergen Sans, a design by Milos Mitrovic. 'Bergen Sans' is a trademark of Mindburger Studio.
OpenType Features:
Kerning.
Alternates.
Ligatures.
Additional Numbers.
Stylistic Sets.
Glyph count: 658
Release Date: 2016
Usage of Bergen Sans
This sans serif font is preferred by companies who want their brand to look more youthful and approachable. Bergen Font is the most popular font for communicating simplicity, modernity, or minimalism. It is most often used in printed media for display purposes and less for text body. Bergen Sans can also be used for other purposes, such as:
Official Documents
Presentations
Logos.
Posters.
Content Headings.
Fonts Similar To Bergen Sans
Bergen Sans Font Combination
Ubuntu + Bergen Sans
Although Bergen font is not very acceptable for body text, we recommend using it for body text because of its modern look. With this, you can use the Ubuntu font for headings.
Also, if you want to use this font for headings instead of short text, you can use any other Sans-Serif font for body text, such as Open Sans.
Font License:
You can download the free version of Bergen Sans font right from here for personal purposes only. For Commercial Purposes, You have to buy the premium version of Bergen Font. Click here to buy.
Bergen Sans Font Free Download
FAQ
Is Bergen Sans A Font Free?
Ans: It is free for personal use only, not for commercial use.
What Type Of Font Is Bergen Sans?
Ans: Bergen Sans is a family of six contemporary sans serif fonts.
Can We Use Bergen Sans Font On Online Platfroms?
Ans: You can use every font downloaded from our website on the online platform, however, there is a request to read the license of the font before using it.
How Do I Download Bergen Sans?
Ans: By clicking our download button, you can easily download Bergen Sans.