About Fira Sans Font
Fira Sans, a sans-serif humanist typeface, was designed by Erik Spiekermann and Ralph du Carrois. It is also used by Anja Meiners, Botio Nickoltchev of Carrois Type Design, and Patryk Adamczyk from Mozilla Corporation. Telefonica originally commissioned this typeface to develop Firefox OS as part of the collaborative effort. It is a slightly larger and calmer version of Meta Spiekermann's typeface, used in Mozilla's branding typeface. However, it has been optimized for easy reading on small screens. Mozilla chose Fira to convey the ideas of fire, light, and joy in a universal language to indicate the project's global nature. Fira was originally released under the Apache License in 2013. Later, it was reissued under SIL Open Font License. Fira Sans Font Download is available here!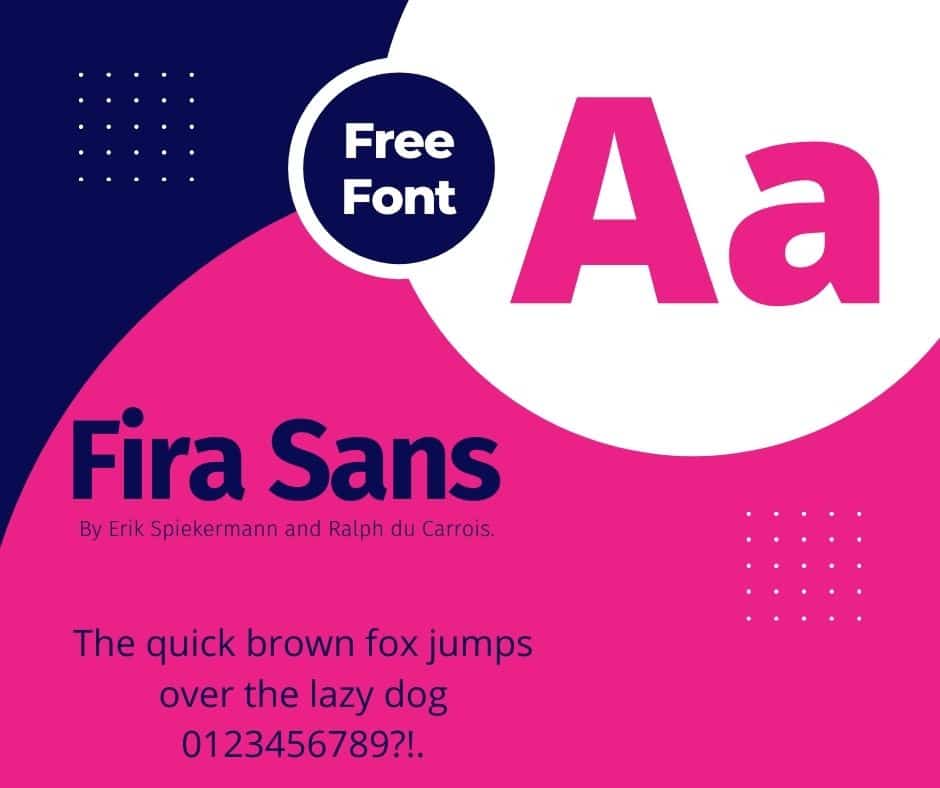 Fira Sans' initial 2013 release was available in four weights, each with the corresponding italics: regular, light, medium, bold. The number of weights increased to 16 in May 2014. Mozilla introduced a condensed style in 2015. Fira Font family features a large character set, including small caps and text figures. In the 4.3 release, Some bugs in the Fira font have been fixed. Fira now offers localized functions for Hungarian, Serbian, Macedonian, and Bulgarian. The local BGR, which was made in cooperation with Bulgarian-type developers Botio Nikoltchev and Vassil Kateliev, is a genuine reward.
Usage Of Fira Sans Font
Although the design is familiar (FF Meta Serif, FF Unit), Fira's birth circumstances are still noteworthy. The Mozilla Foundation commissioned it and released it under the SIL Open Font License. Let's give credit to the Mozilla Foundation for realizing that type is valuable, allocating a budget and hiring someone who understands what they're doing, just like Microsoft did in the 1990s when Matthew Carter commissioned Verdana and Georgia. Let's also acknowledge Ralph du Carrois, the designer who worked on this project. You can download fira Sans for free for personal and business use. Individual use refers to any use that does not produce monetary compensation in a business manner, such as:
Individual scrapbooking is possible for you.
Sites for sports and sites that promote health and fitness
Prints such as posters, flyers and t-shirts are available for charities, churches and other non-profit organizations.
This font has also been used in the design of Good Pictures by Kim Beil (This field guide is rich in pictures and covers all aspects of American photography from daguerreotype through digital).
This font is used in the leaflets of the Polish Film Institute at Berlinale 2020. (Headlines are set in Iskry, body text uses Fira Sans.)
Fira Sans is used throughout iOS and Android Game Tabuh and its marketing materials.
It is also thought that Fira Sans Font was used as Amazon's logo font.
This means that this font is suitable for use in almost all cases, so don't delay. Click the Fira Sans Font Download button below and put this font in your collection now.
Fonts Similar To Fira Sans
Fira Sans can be an excellent fit as a totally free choice in google typeface. The most useful feature of Fira Sans is that it also changes the lowercase typeface of the letter "a" in italic weight like FF Meta. Let's look at some fonts similar to Fira Sans-
FF Meta.
Ratio.
Haptic.
Vista Sans.
FF Sanuk.
Myriad.
Fira Sans Font Combination/Pair
Fira Sans + PT Serif
Fira Sans matches well with Adelle, Inconsolata, Majesti Banner, Playfair Show, Montserrat, Arvo and PT Serif. However, we will call for the use of the PT Serif font with Fira Sans. Both Fira Sans and PT Serif are made for excellent readability and clarity.
While we can genuinely utilize this duo anywhere on any internet site or blog with a big readership, the tone feels comparable to the one we receive from newspaper covers shrieking out the top headlines of the day. As such, this pair would certainly serve you well on news sites– particularly in the sports or entertainment arena.
Fira Sans Font Download
FAQ
What type of font is Fira Sans?
Ans: Fira Sans, a sans-serif humanist typeface, was designed by Erik Spiekermann and Ralph du Carrois.
How do I get Fira Sans font?
Ans: Fira Sans is available via an open source license. You download this font by clicking the "Fira Sans Font Download" Button ↑
Is Fira sans a Google font?
Ans: Yes, It is a google font. Click here to see it on Google fonts.
Is Fira Sans Font Safe To Download And Use On My PC And MAC?
Ans: Yes, The font we are providing is 100% safe to download for both PC and MAC.