About Cyberpunk Logo Font
Cyberpunk 2077 is a cyberpunk-themed action role-playing video game developed by CD Projekt RED, with assistance from Arkane Studios. The story is set within Night City, an open universe that takes place within the Cyberpunk universe. The player assumes the role of V, a mercenary whose goal is to harvest data from the headquarters of a powerful corporate conglomerate. Cyberpunk logo font download is available here.
The logo for 2077 Cyberpunk is an interesting case study in lettering design. The letters are constructed to break the rule of letter spacing, which is called tracking. The letters are tightly spaced to mimic the feeling of being crowded in a dark alley with neon lights flashing. The yellow color creates a sense of urgency because it grabs your attention and makes the word "Cyberpunk" pop out at you while still maintaining its position as one word.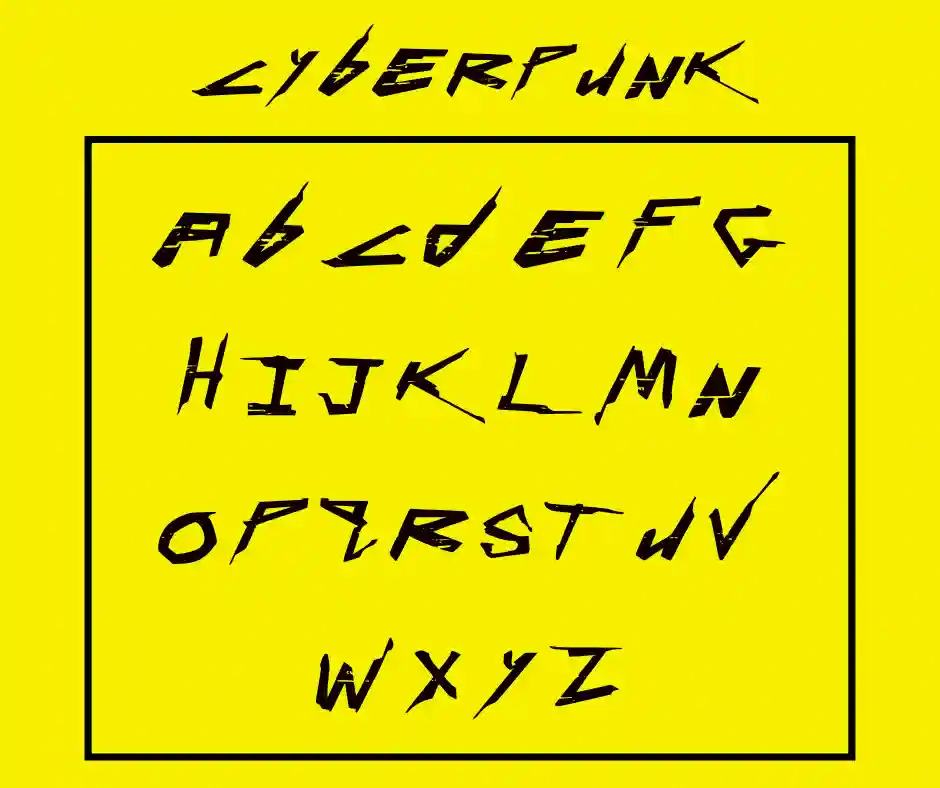 Actually, It is custom lettering. But Lyon ArtZ designed a font called "Cyberpunk" inspired by the lettering of Cyberpunk 2077. Cyberpunk is a decorative techno font.
The Cyberpunk Font is available in a single regular style with Truetype characteristics. There are 52 glyphs and 55 characters in this single style. It's only a demo; the full version has more characters and glyphs. Be quick, Cyberpunk font download now for your personal work. To Download Cyberpunk 2077 ⇒ click here.
Usage Of Cyberpunk 2077 Font
This font type is suited for a variety of important design strategies. It is important to apply this amazing typeface for a variety of reasons. For example, creating a brand logo, a poster, or a cover layout are all examples of graphic design. It's a typeface that's used for headings. Download the Cyberpunk typeface for free right now!
Fonts Similar to Cyberpunk font
Collapse Free Font.
Centrion Font.
Thunderstorm Font.
Horsemen.
Jetta Tech font.
Font License
Cyberpunk font is a freeware font. It is free for personal purposes. If you want a commercial license contact the designer from the link below ⇓
Cyberpunk 2077 font Download Free
FAQ
What is the cyberpunk font?
Ans: Cyberpunk is a decorative font designed by Lyon ArtZ.
Is cyberpunk a free font?
Ans: It is free for personal use only.
Is Cyberpunk Font Safe To Download And Use On My PC And MAC?
Ans: Yes, The font we are providing is 100% safe to download for both PC and MAC.
Can We Use Cyberpunk font On Online Platforms?
Ans: You can use every font downloaded from our website on the online platform, however, there is a request to read the license of the font before using it.