About Twitter's logo & Font
Twitter is a social networking service that allows users to read and post short 140-character messages (called tweets). The microblogging website was created in 2006 by Jack Dorsey, Evan Williams, Biz Stone, and Noah Glass. The Twitter font is available for download at no charge from this site.
The first official Twitter logo was a refreshing change from the pre-launch version. Linda Gavin, the designer, had just one day to complete it before the formal unveiling. It was a basic wordmark with a distinctive rounded font, tiny capitals, and no gap between the characters.
Twitter management saw the need to revamp the brand's image in 2012, with a focus on even greater simplicity. Twitter had grown so famous throughout the globe at that point that the company's name did not seem to be necessary for the logo. The name was deleted, and the emblem was changed to that little bird.However, that lettering continues to attract people's curiosity today. You can also get the font used in Twitter's original rounded letters from here. The rounded Twitter logo was created with slight adjustments to Maniackers Design's Pico Alphabet font. Pico Alphabet comes in two variations: Pico Black and Pico White.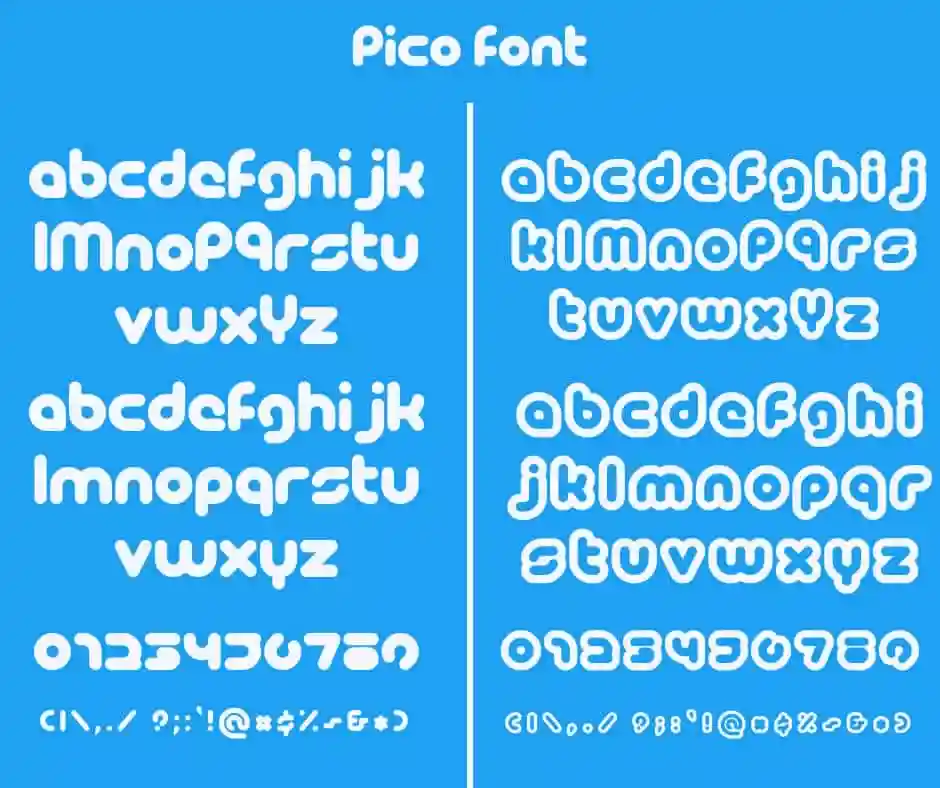 There are various differences between uppercase and lowercase letters. Additionally, the Pico font family includes numerals and punctuation. This font is available for both Windows and MAC. To download Pico Font family, scroll down a little bit.
Update: 
In 2012, Twitter unveiled a new logo featuring the "Twitter Bird." The term "Twitter", as well as the lowercase character "t", have been wiped out.
Usage of Twitter Font (Pico Font)
The use of rounded display fonts in applications has grown in popularity during the last several years. As a result, you can quickly integrate this Twitter font into your application. Apart from that, Pico font looks fantastic on websites, headers, logos, banners, and social media postings, along with other uses. You may also utilize the typeface used in the former Twitter logo on children's clothing, toys, and games to convey joy. So, without further ado, download the Twitter font for free right now.
Fonts Similar To Twitter Font (Pico Font)
Somatic Font.
Oduda Font.
Tailwind Collection.
Xova Rounded.
Volte Rounded.
Font License
Pico Font is free for both personal and commercial purposes. This means that for commercial usage, no license or money will be required. Click on the download button below to get your Twitter font right away.
Twitter Font Free Download
FAQ
Is Twitter A Free Font?
Ans: Twitter Font is free for both personal and commercial purposes.
What Font Is Closest To Twitter?
Ans: Somatic Font is the closest to Twitter font.
Is Twitter A Safe Font?
Ans: Yes, The font we are providing is 100% safe to download for both PC and MAC.
Can We Use Twitter Font On Online Platforms?
Ans: You can use every font downloaded from our website on the online platform, however, there is a request to read the license of the font before using.