About Cyrene Free Sans Serif Font
Are you looking for a decorative sans serif font for your following projects? Don't worry, Presenting Cyrene Font! If you need to refresh or beef up your font library, this fantastic display sans font might help you. Cyrene Font Download is available here.
Cyrene is a top-quality Sans and Display font that Riccardo Agostinelli creates. It's accessible for free download for both commercial and personal use. Cyrene is an elegant font. The free version offers all lower and uppercase letters as well as a few unique characters too.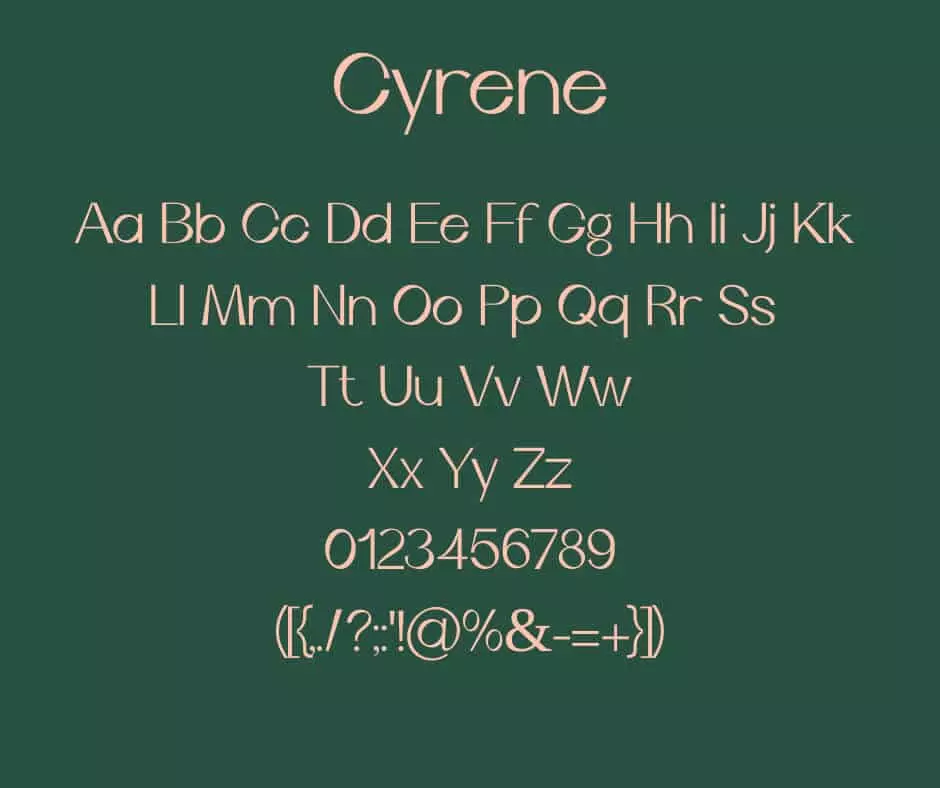 Usage Of Cyrene Font
It's ideal for applications for digital projects, such as films, user interfaces, and even the web. Cyrene offers great clarity and readability. You can use it whenever you need to convey information in a simple and clear manner. Cyrene font is great for logos with a minimalist design.
Cyrene is ideal for the digital world that is flexible since it can be easily translated into any size or on any platform. Since it's extremely modern and easy to read, it's easier for users to comprehend it even when it's displayed on a smaller display.
You can utilize your Cyrene San-serif font for everything from your About page to the descriptions of your product pages.
Fonts Similar to Cyrene
Quinger Font.
Waffold Font.
Audrey.
Marbre.
Font Combination
Cyrene + Century Gothic.
If you're looking for a Cyrene font pairing, you might want to try something versatile and modern like Century Gothic.
Century Gothic is a round sans-serif that is loved by many in the design world. The font is extremely versatile and can be used with nearly any type of material. Cyrene can be described as a stylized, decorative sans serif font that has a powerful, yet elegant look. This font combination conveys an air of sophistication without being too whimsical.
Font License
The Cyrene font is available for free and is free to download for commercial or personal projects. You can visit: Riccardo Agostinelli for more of his fonts.
Cyrene Font Download Free
FAQ
What Type Of Font Is Cyrene?
Ans: Cyrene is a top-quality Decorative Sans-Serif font that Riccardo Agostinelli creates.
Is Cyrene A Free Font?
Ans: Yes, Cyrene is totally a free font.
How Do I Download Cyrene?
Ans: By clicking our download button, you can easily download Cyrene Font.
Can We Use Cyrene Font On Online Platforms?
Ans: You can use every font downloaded from our website on the online platform, however, there is a request to read the license of the font before using it.