About Glamour Absolute Vintage Font
"Glamour Absolute"- A bold serif "two-faced", bold serif featuring both modern and classic curves. Nicky Laatz was the designer of Glamour Absolute. Nicky Laatz also published Glamour Absolute. Glamour Absolute is available in three styles (Regular Extended, Condensed). Glamour Absolute, with its split personality, is very versatile. It covers a wide range of project types. From bold magazine imagery to wedding invitations to branding, poster designs, and many other things. OpenType Features can be used to access the font's fancy alternate letters. They are available in a variety of apps such as Pages, Textedit Photoshop Illustrator, Indesign, and Photoshop. To Download Glamour Absolute Font, Hit the button below.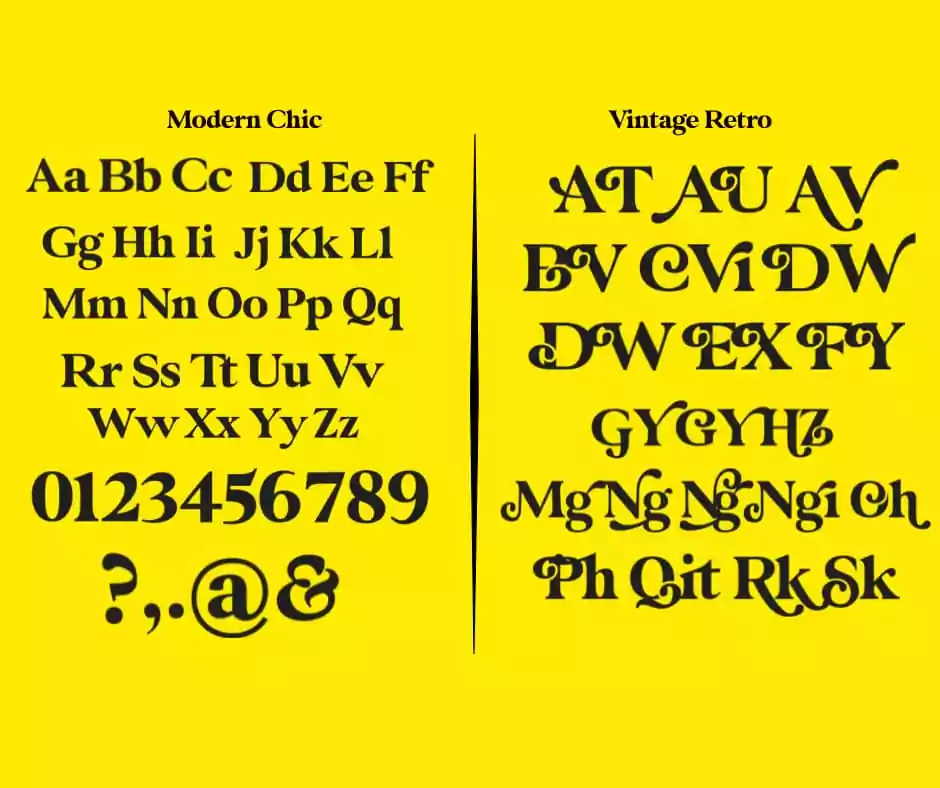 Let's Talk About The Two-faced beauty : Modern or Vintage
Vintage Retro: Use OpenType to access the vast array of alternative letters and ligatures. Select the letters that you like to achieve the vintage look you desire. You can choose between a light or heavy vintage look depending on how many letters are altered.
Modern Chic: Use regular letters for Modern Chic. You can play with the spacing of your letters to add more style to your designs.Language Support: Danish, English, Finnish, French, German, Italian, Luxembourgish, Norwegian Portuguese, Spanish, Swedish, Swiss German.
Usage Of Glamour Absolute
Serif fonts were used often in the past because they work well for the printed word. The small strokes that project from the main stroke of each character (the serif) help letters stand out clearly which helps the brain recognize letters and words more easily. They are therefore a great choice for web designers. In addition to these qualities, you will get many more benefits in Glamour Absolute font. Its modern and vintage look enables this font to keep pace with current design trends. You can use Glamour Absolute font for the following tasks:
Create exciting designs.
Covers.
Shop and store names.
Logos.
Branding projects.
Youtube Thumbline.
Fonts Similar to Glamour Absolute
Glamour Absolute Font Combination
Glamour Absolute + Grenze
Because of Glamour Absolute's bold serif and vintage curve style, It is perfect for making an eye-catchy heading. So it seems to me that this font will fit the heading more than the body text. We have used Grenze as a pair of Glamor Absolute which will be used as body text. Grenze is a google font that features nine weights with matching italics.
Font License
The font you can download from our website is for personal use only. To use Glamour Absolute font for commercial purposes, Buy the license.
Glamour Absolute Font Free Download
FAQ
Is Glamour Absolute A Font Free?
Ans: It is free for personal use only, not for commercial use.
What Type Of Font Is Glamour Absolute?
Ans: Glamour Absolute is a bold serif "two-faced typeface designed by Nicky Laatz.
Can We Use Glamour Absolute Font On Online Platfroms?
Ans: You can use every font downloaded from our website on the online platform, however, there is a request to read the license of the font before using.
Is Glamour Absolute Safe To Download And Use On My PC And MAC?
Ans: Yes, The font we are providing is 100% safe to download for both PC and MAC.