About Liberation Mono Font
Monospaced typefaces, sometimes called fixed-pitch, fixed-width, or non-proportional fonts, are those in which each letter and character occupies the same amount of horizontal space. Today we'll look at Liberation Mono, a free monospaced typeface. Liberation Mono font download is available here.
Liberation is a collective name for four TrueType font families, one of which is Liberation Mono. It is much more similar to Liberation Sans than Monotype's Courier New, but its metrics match Courier New. Liberation mono is one of the most widely known monospace fonts. It was designed by Steve Matteson and published through Ascender Corporation. This font is based on Ascender Sans and Ascender Uni Duo.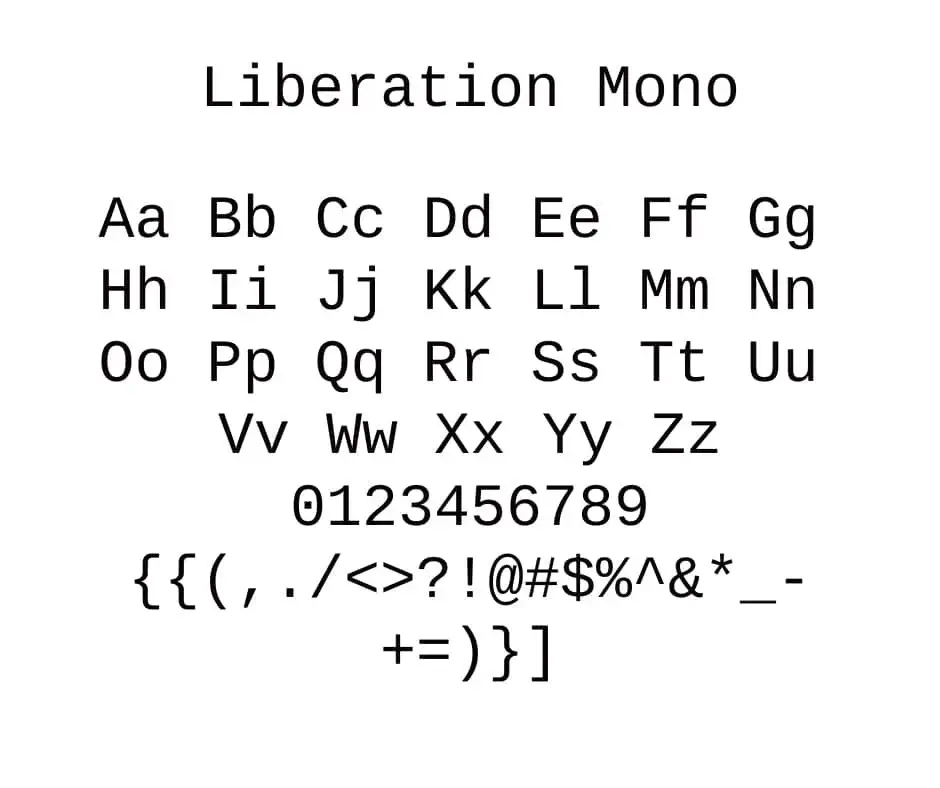 The entire font family was developed over the course of two variations. Released in May 2007 and January 2008, respectively; both are available now. Liberation Mono is compatible with the most widely used fonts on Microsoft Windows, as well as the Microsoft Office software package, which includes the Microsoft Office suite.
Usage of Liberation Mono Font
Monospace fonts have commonly employed in early computers and computer terminals, which had relatively limited graphical capabilities and were prone to malfunction. Even though computers are now capable of displaying a wide variety of typefaces, monospace fonts are currently on the decline. However, the current design trends show some use of these fonts. So let's see where you can use the Liberation Mono font.
You can use Liberation Mono font on your website. This type of font is noticeable on many websites nowadays. So, use this font on your website without any hesitation. In addition to this, we see the use of Monospace font in many books, so Publishers can also use liberation Mono font for book printing. Quotes design is another place where you can use it.
Fonts Similar To Liberation Mono
Hack.
Menlo.
Prima Sans Mono.
Vera Sans Mono.
Operator.
Noto Mono.
SF Mono.
Liberation Mono Font Combination
Lumber font + Liberation Mono
If you're working on a monospace font, try using another monospace font as a combination. With Liberation Mono, you guys can use Lumber font. Use Lumber for big text/heading and Liberation Mono for small text.
Font License
The older version of Liberation Mono font is licensed under GNU General Public License by Red Hat. It means you can use this font for study & modify the software for free. Designing and Printing for personal purposes are acceptable.On the other hand, version 2 is under the SIL Open Font License. Download Liberation Mono Font now.
Liberation Mono Font Download Free
Is Liberation Mono a free font?
Ans: Yes, the version we provide is completely free to use for personal purposes. However, if you want to use it for business reasons, you'll need to upgrade to the premium version.
Is Liberation Mono A Good Font?
Ans: Yes, Liberation Mono is a contemporary, unique, and elegant monospace font.
What Type Of Font Is Liberation Mono?
Ans: Liberation mono is one of the most extensively used monospace fonts on the market today.
Is Liberation Mono A Safe Font?
Ans: Yes, The font we are providing is 100% safe to download for both PC and MAC.