About Lazer 84 Font
Lazer 84 is a brush script font with an aggressive and eye-catchy look. Sunrise Digital shared this brush font in November 2015. The original designer of this beautiful font is Juan Hudgson. Fonts from the 1980s inspire Lazer 84 script font. As a result, it's also known as an 80s font.
This retro-style brush font has a single weight, including numbers, symbols and accents. The typeface is characterized by features such as these that emphasize that content is formed rapidly. As a result, the texture feels fresh when viewed on a screen or display.
Laser 84 was designed to work on all devices, including PCs, Macs, Linux, iOS, and Android. You can download this font from here for personal and commercial purposes.
I suggest that you view the Lazer 84 character map before downloading this typeface.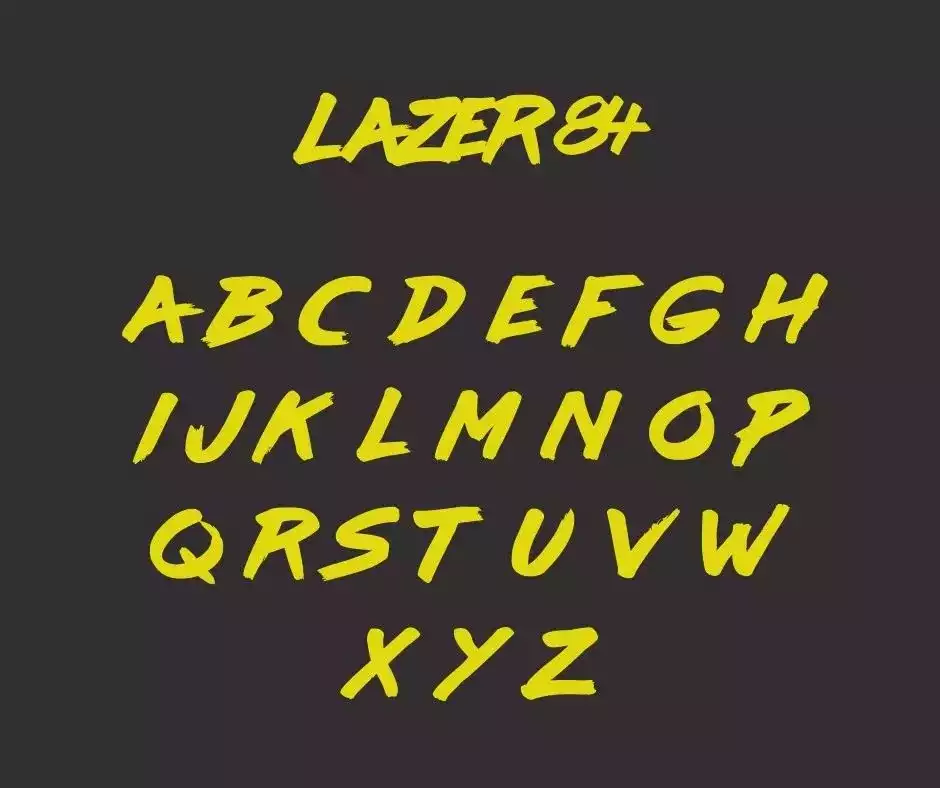 Font Information
Font Usage
You can use the Lazer 84 typeface for various purposes, such as creating a modern or rustic look or adding a touch of personality to your text.
Using brush fonts like Lazer 84 in web and print design can be a powerful tool, but sometimes they can be difficult to work with. But if you want to make your website look like the '80s and aggressive, you can use this as a Heading.
Lazer 84 font usage in Graphic Design is becoming more and more popular. This typeface is often used for logos, album covers, and any graphic design that needs a modern and unique look.
Font License
The free version is only for personal purposes. You can make a donation via PayPal for commercial use.
Fonts Similar To Lazer 84
When it comes to similar fonts to Lazer 84, there are a number of fonts to choose from. Here are some examples:
Summer 85.
Rushink Brush Font.
Zenghief Hand Brush Font.
Road Rage Font.
Another Danger Font.
Lazer 84 Font Download Free
Font Combination
Lazer 84 is a great way to add more personality to your designs. However, it cannot be easy to find the right combination that works well together. The following are some examples of the perfect combinations of Lazer 84.
Raleway.
Abril Fat Face.
Work Sans.
Montserrat.
Open Sans.
FAQ
Is Lazer 84 Typeface free?
Ans: Yes, it is. This version is totally free for personal purposes.
What type of font is this?
Ans: Lazer 84 is a brush script font with an aggressive and eye-catchy look.
What typeface is closest to Lazer 84?
Ans: Laser 84 is a typeface that has a similarities with other types of fonts. People like Summer 85 Font and Rushink Brush Font the best.
What font goes with Lazer 84?
Ans: Lazer 84 goes well with many different types of fonts, such as Raleway and Abril Fat Face, to make a beautiful design.
Are computers and Macs compatible with Lazer 84?
Ans: Yes, it is. Both Mac users and PC users can use Lazer 84.