About Paradizo Elegant Serif Font
Pixel Surplus is famous for great typefaces and free design goods Paradizo font is one of them. It is a beautiful serif font with regular and oblique variations. Paradizo has several alternatives and ligatures that will allow you to create exquisite one-of-a-kind designs easily. If you want to make your design minimal and modern, then Paradizo is the best choice. Download Paradizo font is free for personal use only. Before we go any further, let's take a look at the characters of this font and how they'll appear in your work.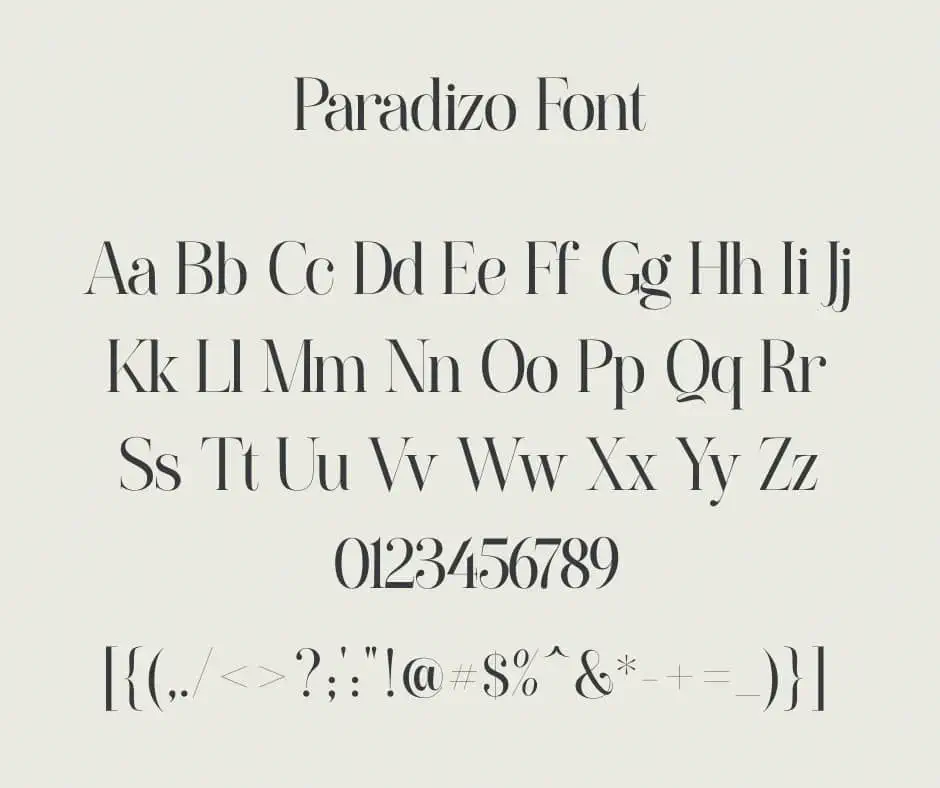 Paradizo is a wonderful blend of modern and traditional serifs, with smooth curves and refined letters. Thanks to Pixel Surplus, for the demo version of this elegant serif font. I've included a list of typefaces that look similar to Paradizo in the hopes that it would be useful.
Features included: Uppercase, Lowercase, Numeral, Punctuation, Multilingual, Alternates & Ligatures.
Usage of Paradizo Font
Paradizo font is a type of font that can easily be used in print design. It can be applied to headlines and captions to make them easier to read. It tends to be bolder and more legible on lower-resolution monitors, which makes this font a good choice for these purposes. So, Paradizo font is suitable for on-screen performance.
Moreover, the free Paradizo typeface may be used in a variety of designs, including social media posts, logos, merchandising, book covers, posters, video content thumbnails, quotes, landing pages, wedding invitations, and more. Download the free version of Paradizo font for your personal use right now from this page.
Fonts Similar To Paradizo
Quimera Font.
Glamour Absolute Font.
Gamour Font.
Novara Modern Serif Font.
Moetya Font.
Paradizo Font Combination
Paradizo + Biko
Serif fonts have a more traditional feel to them, while sans-serif fonts are more modern and simple. However, serif fonts can become very difficult to read when they are combined with other serif fonts. For this reason, A modern Sans-serif like Biko will be a perfect pair of Paradizo font. You Can Use Paradizo for Big text and Biko for small text. Choice is yours.
Font License
It's a free sample of the Paradizo typeface. Pixel Surplus was kind enough to provide us with this lovely typeface! On the other hand, you may only use Paradizo Serif Font for personal use. To receive the complete version and commercial license, please click this link: Here.
Paradizo Font Download Free
FAQ
Is Paradizo a free font?
Ans: Yes, the version we provide is completely free to use for personal purposes. However, if you want to use it for business reasons, you'll need to upgrade to the premium version.
Is Paradizo A Good Font?
Ans: Yes, Paradizo is a contemporary, unique, and elegant style that is suitable for print and on-screen usage.
What Type Of Font Is Paradizo?
Ans: Paradizo is a beautiful serif font with regular and oblique variations.
Is Paradizo A Safe Font?
Ans: Yes, The font we are providing is 100% safe to download for both PC and MAC.