About Roboto Font
Christian Robertson designed Roboto in 2011 as an open-source, grotesque sans-serif font that was released publicly via Google. It was designed as the system typeface for Google's Android 4.0 mobile operating system. In 2014, Roboto was redesigned for Android 5.0. It is also the default typeface used in Google Maps and Google+, as well as other Google products. You can download the Roboto font in a zip file from here and use it in a variety of locations.
Roboto has a split personality. It features a mechanical structure and mostly geometric shapes. At the very same time, the typeface has wide and welcoming curves. While other grotesques twist their letterforms to create a strict rhythm, Roboto does not, allowing letters to settle into their natural width. Because of the closeness of several characters in Helvetica, Univers, Myriad, DIN, and Ronnia, typography analyst Stephen Coles referred to Roboto's original release as a "Frankenfont." However, the typeface has had a few revisions and enhancements since then, which have solved many of the issues with the first release.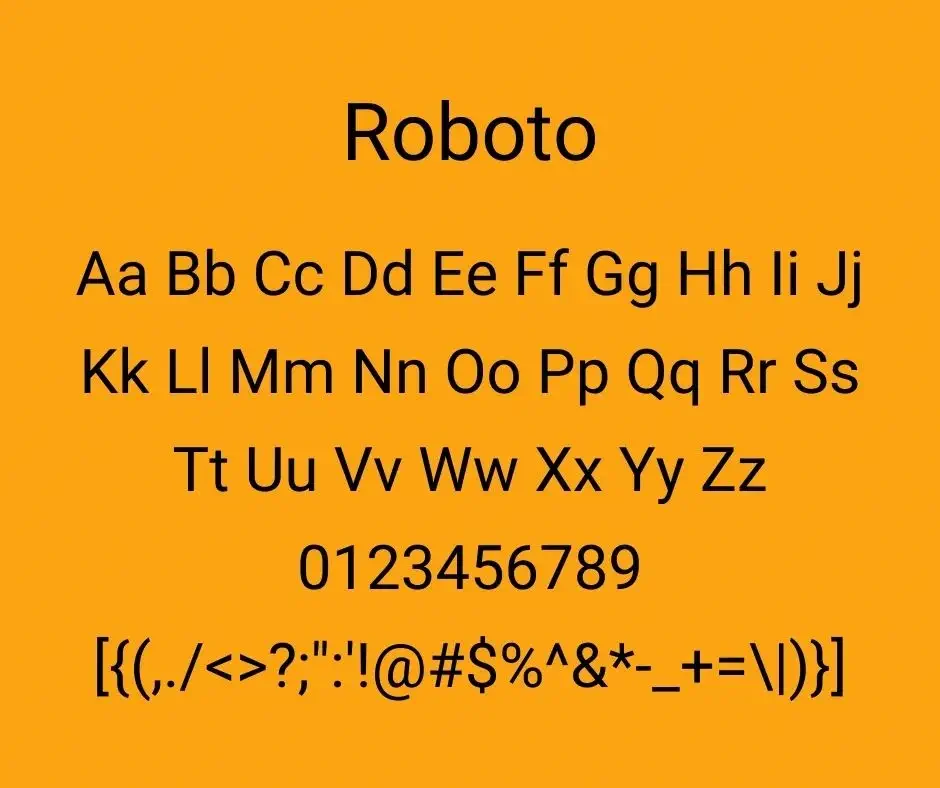 Cyrillic scripts are supported by Roboto, as well as Latin and Greek (partially). It's available in a dozen different styles (thin, 100italic, light, 300italic, regular, italic, medium, 500italic, bold, 700italic, black, 900italic). The Roboto font family also has a condensed version called Roboto Condensed. Natural-looking fonts don't sacrifice letters or width in order to achieve this appearance. Christian Robertson, the font designer, has a deep connection to nature and his family, and he used that inspiration to create this striking typeface.
What is Roboto font used for?
With its wide and welcoming curves, the Roboto typeface is appropriate for use on online sites and is comfortable on the eyes. If you are a graphic designer, the Roboto typeface should be on your list of favorites. Aside from book covers and business cards, you may create various additional materials, such as logos and banners. So, if you're intending to use it, keep it in the body text.
Alternatives to Roboto Font
Cabin.
Noto Sans SC.
Helvetica Neue.
Open Sans.
Akkurat.
Case.
DIN.
 Stevie Sans.
Anti.
Salmanazar.
Font License
Under the Apache license, all of the fonts in this family are free to use. Get Free Roboto font now by clicking the button below.
Roboto Font Free Download
Roboto Font Combination
Arvo bold + Roboto regular
Arvo is a slab-serif typeface with geometric shapes. This daring font may make any headline ideal if used in its bold format.
On the other hand, One of the most versatile typefaces on the market, Roboto, was developed by Christian Robertson. It's simple to read any text in Roboto since all letterforms are positioned with a natural width.
The typeface used in both places is a Google Font.
FAQ
Is Roboto font free to use?
Ans: Yes, Roboto font is free to use both for personal and commercial purposes.
Can I use Roboto for logo?
Ans: Yes, You can use this amazing font for design a logo.
Is Roboto good for Web?
Ans: Roboto is simple and highly readable. It is the best font for web.
How do I download a Roboto font?
Ans: By clicking our download button, you can easily download this Font.
What font is close to Roboto?
Ans: Cabin, Noto Sans SC, Open Sans, Din and many more fonts are close to Roboto.
Is Roboto a Google font?
Ans: Yes, Roboto is a google font. It was released by Google in 2011 for Android 4.0.