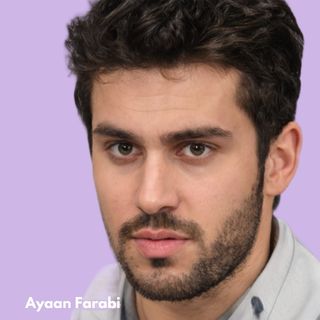 Hi there!
I'm Ayaan Farabi, a passionate type designer and the proud owner of Free Fonts Lab. I have always been passionate about typography and was fortunate enough to pursue my interest and develop my skills at the University of Reading. It was there that I completed my studies and was able to sharpen my expertise in this field. Typography is more than just a passion for me – it is my true calling.
I've always been captivated by typography and how it can express feelings, concepts, and communications using stunningly designed letters. I think each font can tell a story. My goal is to make typefaces that improve visual communication and bring a sense of harmony and aesthetic pleasure.
At Free Fonts Lab, I pour my heart and soul into developing unique and versatile typefaces that cater to a wide range of design needs. I create fonts that not only meet functional requirements but also add character and personality to any design project, including impactful headlines, elegant body text, and playful display fonts.
Few Words
Design is just one of the most vital elements when developing a brand. If you do not place time, effort as well as even money into this, it may result in an unsuccessful company. From that thought I started working on design. I mainly share posts related to typeface and graphics design.
Are you a graphic designer or in particular a logo designer, web developer or in a related field? Are you in need of proper fonts to showcase the professionalism of your work? You are at the right place. I am here to help! I share quality free fonts every day.
Besides, If you want to know more about graphic design or improve your graphic design knowledge then you have come to the right place. I regularly share articles on graphic design and try to give you ideas about graphic design. My main goal is to share the right information with you.
Why & How I Started FontsOwl?
I started Free Fonts Lab with a clear vision and a deep-rooted belief in the power of accessible design resources. It's common for skilled designers and other creative types to struggle with locating premium fonts that meet their specific requirements without costing a fortune. This sparked a desire within me to make a difference and provide a solution.
I firmly believe that creativity should know no bounds and that everyone should have the opportunity to express themselves visually. I created Free Fonts Lab, a website where designers and enthusiasts can get high-quality fonts without paying for them. Users can browse through our diverse collection of fonts and download them for free.
The mission behind Free Fonts Lab is to promote inclusivity and open access to creativity. I provided free, curated fonts to eliminate barriers and empower designers of all backgrounds to bring their ideas to fruition. I firmly believe that creative expression should not be hindered by financial constraints, and Free Fonts Lab aims to bridge that gap.
The process of starting Free Fonts Lab involved a combination of passion, expertise, and dedication. Drawing on my background in typography and my love for type design, I immersed myself in the world of font creation. I spent countless hours refining my skills, studying the intricacies of letterforms, and experimenting with various design techniques.
Additionally, I invested time in building a network of fellow designers, collaborating with them, and seeking their feedback and insights. Their support and guidance were invaluable in shaping Free Fonts Lab into what it is today.
Technical aspects such as website development, font file optimization, and user experience were also crucial in bringing Free Fonts Lab to life. I wanted to ensure that the platform was user-friendly, visually appealing, and easily accessible to designers of all skill levels.
Since its inception, Free Fonts Lab has been driven by a deep passion for typography and a commitment to empowering designers worldwide. It brings me immense joy to see the impact that our fonts have in the creative community, and I am continually motivated to expand the offerings and reach of Free Fonts Lab.
In conclusion, Free Fonts Lab was born out of a desire to make top-quality fonts available to all designers, regardless of their financial resources. Free Fonts Lab sparks creativity and inclusivity in the design world. We encourage innovation and inspiration by promoting the power of art and diversity.