About Maven Pro Font
Maven Pro is currently one of the most widely used fonts in graphic design. It is a sans-serif typeface with curvature and flowing rhythm. These two features make this font extremely readable and distinguishable when used in context. Maven Pro font was created on 11 January 2011 by USA-based type designer Joe Prince. Although this font was designed in 2011, it has a modern look in its design, and it is very much in line with the current design trends.
Maven Pro font family contains four main weights (regular, medium, bold, black) and two sub weights (semi-bold, extra bold). In addition to the general punctuation, symbols, numbers, and many special characters used to create these weights, each has 211 unique glyphs with 2048 units per em. In January 2019, there was a new weight in Maven Pro that was Variable. To learn more about variable fonts, click here.
There are many other famous sans serif typefaces that can be paired with Maven Pro. Despite having a section dedicated to this, we will not discuss it now. You can download this font family for free from Free Fonts Lab. Browse our download font section and download the free Maven Pro font for use on your personal or professional projects.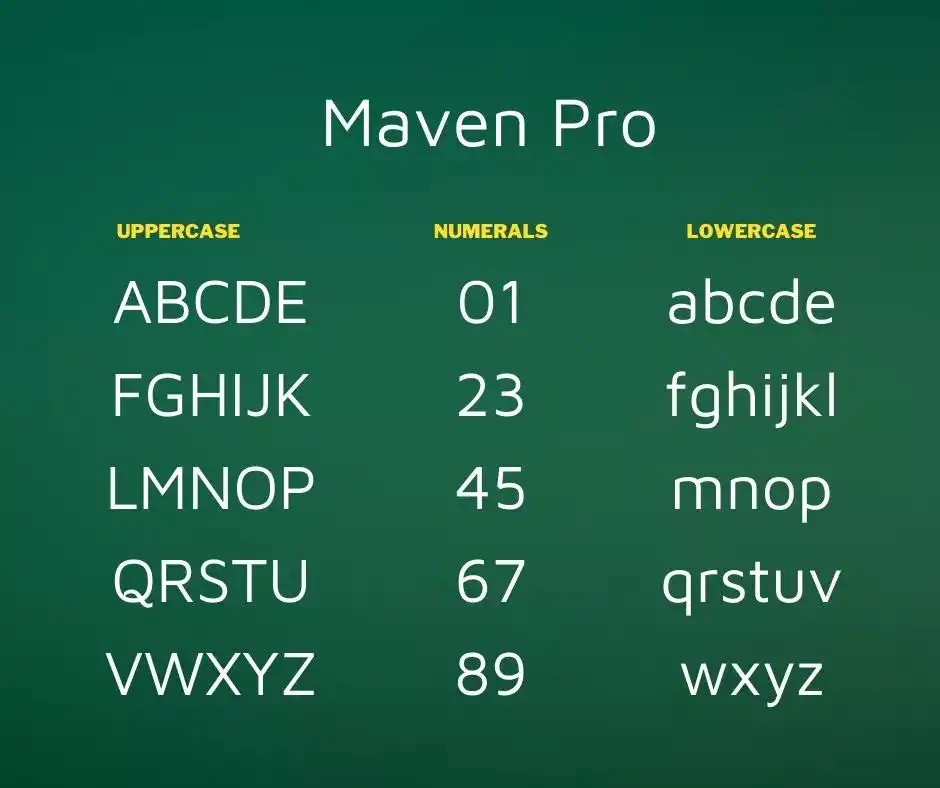 Font Information
| | |
| --- | --- |
| Font Name: | Maven Pro. |
| Style: | Sans Serif. |
| Designer: | Joe Prince. |
| License: | Free Font. |
| Version: | Latest. |
Font Usage
The font was described at the outset as a contextual font, which means that it can be used for everything from official documents to everyday documents. In addition, we have noticed that many prominent websites have utilized the Maven Pro typeface. So this font is also very useful for web design.
This typeface is also quite beneficial for graphic designers, which is why it is often employed in modern design. This typeface may be used for a number of applications in the design industry, including:
Logos. 
Package design. 
Posters.
Book covers.
Banners.
Brochures.
Leaflets.
Infographics.
Many mobile applications use the Maven Pro font. Therefore, if you are an app developer, you can choose this as your preferred font. So, What are you waiting for? Download this modern font family now.
Font License
Font licenses are important to understand when you are using fonts. Maven Pro font licensed under the Open Font License. It is free to use both for personal and commercial purposes.
Font Family
Regular.
Medium.
Bold.
Black.
Fonts Similar To Maven Pro
According to me, Maven Pro is a fantastic typeface. However, many fonts look similar to it. A few examples are given below:
Vaud Font.
Poppins Font.
Kanit Font.
Varela Font.
Gilmer Font.
Maven Pro Font Family Download Free
Font Combination
Patua One + Maven Pro
You have seen slab Serif fonts very few times as heading but today you will introduce you to a font that can be easily used as heading. Presenting Patua One. This Slab-Serifs with a curve add a touch of softness, making it a reassuring read. This will be paired with Maven Pro, which has a unique curve. Any design medium will benefit from this combination of distinct fonts. The modern designs work well on the web and are adaptable to any setting.
FAQ
Is Maven Pro a free font?
Ans: Yes, it is a free font. You can download this font for free from the free fonts lab.
What font goes with Maven Pro?
Ans: Patua One pairs well with Maven Pro. The two distinctive fonts work well together on any design medium.
Is Maven Pro a good font?
Ans: Definitely one of the best free fonts on the market. It has a modern look and feels.
What type of font is this?
Ans: It is a sans-serif typeface with curvature and flowing rhythm.
Is it compatible with computers and Macs?
Ans: Maven Pro is available for download at Free Fonts Lab. This font is compatible with both Macs and PCs.