About Germanica Font
Germanica is a black letter font designed by Paul Lloyd, a designer from Perth, Australia. It is an amazing gothic typeface with four styles available. This popular Gothic font is characterized by its tight, dense letterforms. Germanica is usually more legible in smaller sizes and has an archaic look.
It has 97 characters that contain uppercase, lowercase, some basic punctuations and numerals. Germanica has a narrow x-height, and ascenders and descenders that are exaggerated. Free download the Germanica font right now.
Free Fonts Lab has a huge collection of gothic fonts. Therefore, if you need Germanica typeface and some more Gothic fonts, please visit our Blackletter/Gothic Category.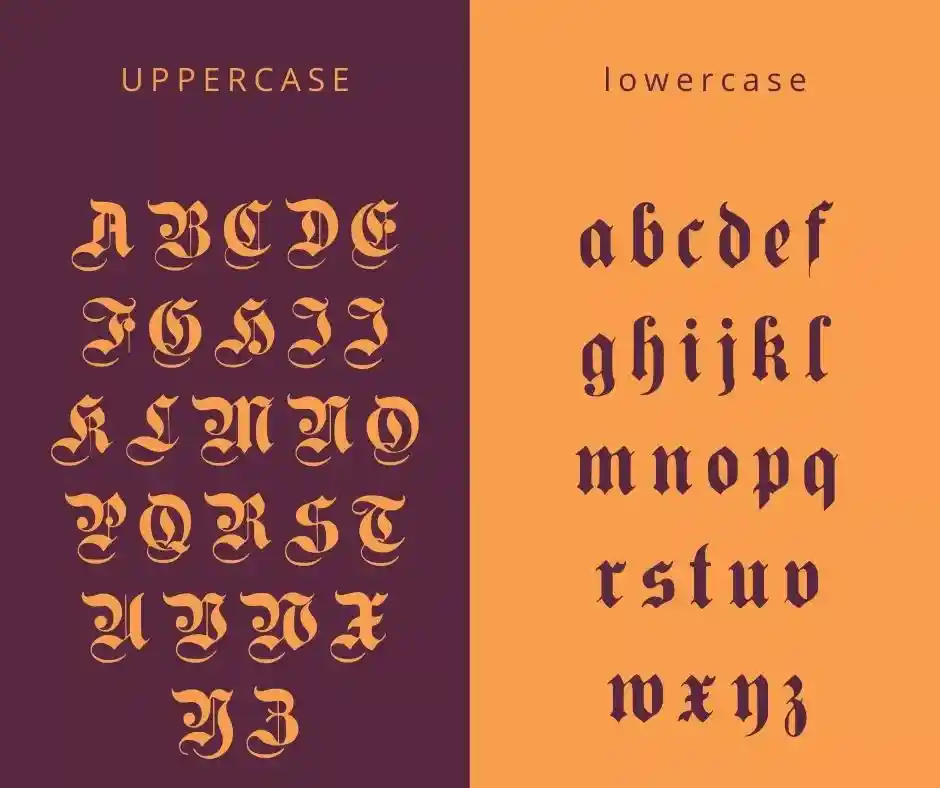 Font Information
| | |
| --- | --- |
| Font Name: | Germanica. |
| Style: | Black-Letter/Gothic. |
| Designer: | Paul Lloyd. |
| License: | Free Font. |
| Version: | Latest. |
Font Usage
You can use Germanica font for various purposes, such as creating a classic look for text or logos or adding an elevated tone to more modern designs. It can also work well for formal documents or presentations desired for a more refined appearance. While It may not be ideal for all types of content, black letter fonts are an often underutilized option that can add sophistication and style to any project.
Germanica typeface is often used for old-fashioned or formal written communications. This font has a dignified and serious appearance, perfect for projects such as wedding invitations, legal documents, or letters of recommendation. Because black letter fonts are so classic, it cannot be easy to find modern versions that still maintain their integrity. However, some great options are available if you're looking for an updated look that's still reminiscent of yesteryear.
Font License
The Germanica typeface is available to download and use for both commercial and personal purposes. Regardless of what approach you take, neither the author nor the foundry has a problem with it.
Fonts Similar To Germanica
Germanica is an amazing Gothic typeface. There are many similar typefaces like this. Below are some similar looking typefaces like Germanica:
Barloesius Schrift.
English Towne.
Chomsky.
Colchester.
Black family.
Germanica Font Download Free
Font Combination
Combining fonts in this way allows you to experiment with different stylistic variations and results in a unique and versatile typeface. Usually, Blackletter fonts like Germanica go well with serif typefaces. So you can use the following typefaces as a combination of Germanica font:
Klavika.
Baskerville.
Neacademia.
Lapture.
FAQ
Is Germanica Typeface free?
Ans: Yes, it is. The designer states that anyone can use this font, regardless of whether it's for personal or commercial purposes.
What type of font is Germanica?
Ans: Germanica is a black letter font designed by Paul Lloyd.
What font is closest to Germanica?
Ans: Germanica is similar to a number of other fonts. There are two fonts in the lead when it comes to popularity: Barloesius Schrift Font and English Towne Font.
What font goes with Germanica?
Ans: There are many fonts that work well with Germanica, including the Klavika and Baskerville fonts.
Are computers and Macs compatible with Germanica?
Ans: Yes, it is. Both Mac users and PC users can use Germanica.